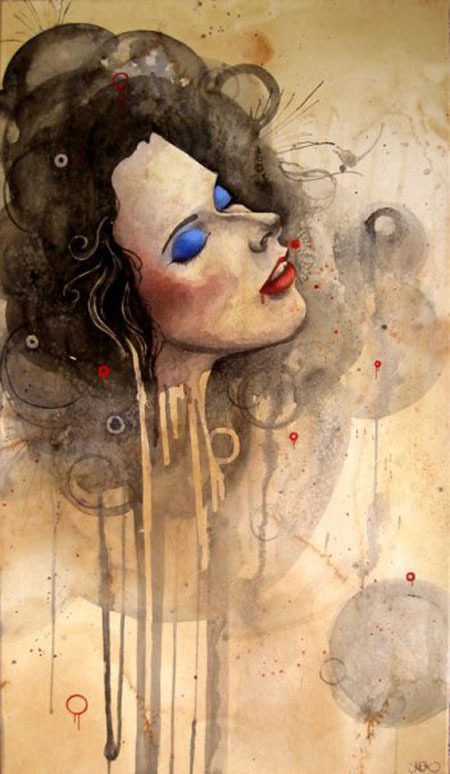 Suspension by
Kelly McKernan

Watercolor and String
2009
I thought it'd be a good idea to start adding images that I like (art, photography, etc.) to my blog entries. It's another way to share art AND it makes my blogs more interesting/entertaining :-) Kelly McKernan is a local artist. I really love her work, and the above piece of her's is one of my favorites. Plus, she's designing the album cover for
Unsent Letters
(which I'm really excited about) so check out her
website
.
My website/blog is about a lot more than just promoting my art. I want to share other people's art with everyone, too, especially artists who are new, independent, local, etc. Artists of all mediums! Visual artists, musicians, filmmakers, poets, authors, playwrights, theatre groups, all of it. There is just
so much great art
out there, and a lot of it goes unnoticed sadly. I want to do my part to change that. Even if I just get 5 or 10 people to check out a new band, I think it's worth it. Because every day, I am immensely inspired, touched, motivated by great music, stories, images,
art.
I was just born to share, experience, and create art.
Speaking of art sharing, I have a new idea.
The Audio Play Project
: I've had a thing for audio books lately. And one day I was thinking about how they should really do more audio book versions of plays. The best way to experience a play, obviously, is to see one. But I think hearing a play would be the next best thing. Almost like a recording of a staged reading, in a way. So. My idea is next year (2010) to record one full-length or longer one-act play a month and put it up in audio book/mp3 format for people to download on my website. Obviously, they wouldn't all be my plays. I'd probably have the first one and maybe the last one be mine, and in between it would be works by other local and/or unknown playwrights. I think it would be a good thing, though. New/unknown playwrights get exposure, the actors get voice over experience, and people get to hear new works! I think putting it in an mp3 format and making it free and available on the internet will give people who don't necessarily go see a lot of theatre the opportunity to experience new plays as well, and then maybe if they liked it, they'd get out there and see new works, too!
What do you guys think? Is this something you'd like to see in the future?
In other news, earlier this week I had a photo shoot with Belenen. I needed some new photos/portraits for my website, my various music press kits, and I wanted to put a photo of me somewhere on
Unsent Letters
(even though Kelly McKernan is designing the cover. I thought I could put it on the inside sleeve.) Typically, I'm ridiculously awkward in photos, but I thought these turned out great!! I couldn't be happier! Belenen just has a way of really capturing people the way that they are, and taking photos that are so bright, full of color, full of live! I feel like I look like myself in these. If that makes sense.
You can check out some of Belenen's photos on her Flickr page,
here.
Here are some of the photos from the shoot. For the rest, check out my
Photos/Videos
page.