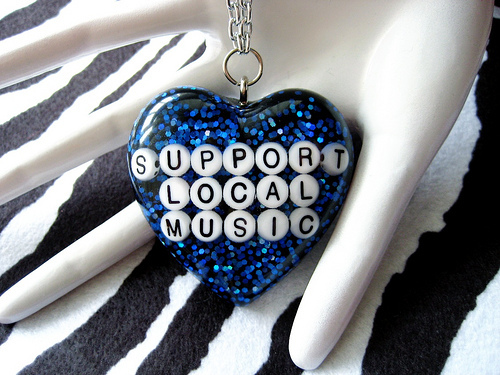 Photo by Vina55a on Flickr
First of all, I just want to say thank you to everyone who reads this! I am completely blessed to have the most supportive people in my life, and I'm grateful for that every day. I've had a few people mention lately that they want to help me get my music out there, so I thought I'd let you know what you can do if you want to help. :-)
Recently, WRAS 88.5 FM in Atlanta (Album 88 - Georgia State University's student-run radio) has been playing tracks from
Unsent Letters
on the Georgia Music Show. The CD was then moved to Mighty Aphrodite, the female vocalists show on Thursday nights from 10:00 pm to midnight. So be sure to listen to the show and check it out!
If you'd like to help me get on the radio more, you can call up the following radio stations (all of which have a copy of my CD) and request my music!
*
WRAS 88.5 Atlanta, GA
- Georgia State University - 404-413-9727
*
WUOG 90.5 Athens, GA
- University of Georgia - 706-542-4567
*
WVVS 90.9 Valdosta, GA
- Valdosta State University - 229 -333-5661
*
KSU Owl Radio (online)
-
http://ksuradio.com/
- Kennesaw State University - 678-797-2665
*
WKNC 88.1 Raleigh, NC
- NC State University - 919-860-0881
*
KLSU 91.1 Baton Rouge, LA
- Louisiana State University - 225-578-5578
*
FAU Owl Radio (online)
-
http://owlradio.fau.edu/
- Florida Atlantic University - 561 - 297-2842
*
WEGL 91.1 Auburn University, AL
- Auburn University - 334-844-9345
*
WTUL 91.5 New Orleans, LA
-Tulane University- 504.865.5885
*
WUTS 91.3 Sewanee, TN
- University of the South - 931-598-1112
Also, if you use
Last FM
, be sure to add me to your library.
Sara Crawford on Last FM
. If you don't use Last FM, you should really check it out! It's a personalized online radio, and it's helped me find loads of new bands and artists that I really, really love. Definitely worth checking out!
Other ways you can help:
Once again, I just want to say thank you for how awesome and supportive you all are. :-) It really makes me happy to be in a community of artists and people who all support each other.
Stay tuned! My next blog post will include a music sharing podcast because there is SO MUCH great music I've been listening to lately, and I really, really need to share it with everyone!!!