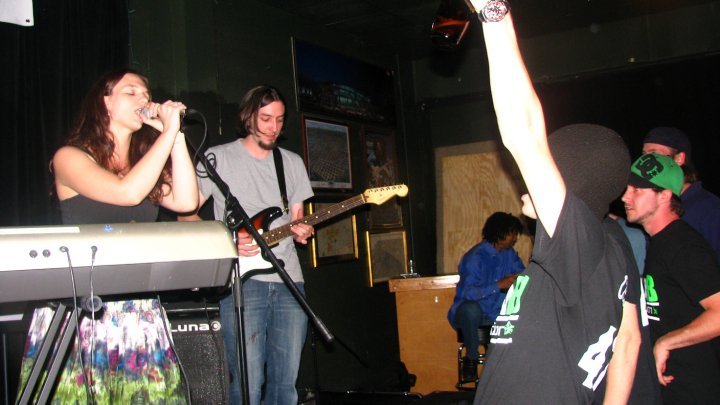 Sara Crawford and the Cult Following...and the ZomB Nation...5.20.10 Smith's Olde Bar - photo by Kyndal Foshee

Hey everyone!!
First of all, thank you SOOO much for all of the awesome support for the first two shows with my new backing band, the Cult Following. Both the show at Lenny's last weekend and the show last night at Smith's Olde Bar in the Atlanta Room were definitely successful, and we all had a blast!! I am so grateful to have so many people in my life who are so supportive of new and local music. I try really hard to thank everyone individually for coming to the show, but there is always so much going on at shows that sometimes I miss people. And I'm really sorry for that! I never do it intentionally. So if you're at one of my shows, make sure you come say hi to me if I don't say hi to you! I'm not trying to ignore anyone. I just get REALLY distracted by everything that I have to do at shows, and sometimes I need people to be like "HEY! SARA! I'M HERE!" for me to notice them. Haha. I'm slow, what can I say? Anyway, though, I just want to say thank you so, so, so much to all of you who take the time to make it out to my shows. I appreciate that more than any of you will ever know. It's not easy to be a local original musician sometimes, and we definitely need all of the support we can get. So thank you, thank you, thank you, thank you. One day I will make cookies for all of you! (Haha. And special thanks to the ZomB Nation. ZOM-BIES! ZOM-BIES! ZOM-BIES!)
I put photos up from both shows on the
photos/videos
page for those of you who want to check those out. (Photos taken by the awesome Kyndal Foshee.) Also, there are three tracks from the Smith's show (courtesy of Z-Man!) on my
music
page if you want to check those out! And there will be a couple of videos up in the near future as well so stay tuned for that. Also, if you haven't gotten a chance to see us, we will be be playing another show at
Cool Beans
in the Marietta Square,
Saturday, May 29th at 9:00 pm.
This show is FREE, all ages, and
Goodland
and
Strangelove
will be playing as well! Music starts at 7:00 so get there early, drink some coffee, and have a fun night :-)
I have a lot going on lately! I recently got some news about some upcoming poetry publications! My poem "Coffee Roaster" will be in the fall issue of
Aries
, the literary journal from Texas Wesleyan University, and my poems "For Frank" and "Visiting" will be in the fall issue of
Illogical Muse.
This is very exciting to me, especially with my first ever book of poems,
Coiled and Swallowed,
coming out on September 7, 2010 from Virgogray Press. I'm also thinking about doing some sort of poetry night event at Cool Beans or somewhere for my book release. Have the first half of the evening be "open mic" with various poets reading their work, and then I'd read some of my poems from the book and have copies available. And also, I'd encourage all of my awesome poet friends to bring their books, too.
In other news, I was listening to this Wayne Dyer tape the other day, and he was talking about how one day, he received two letters from two different readers talking about one of his books. The first guy was just going on and on about how great it was and how it saved his life. The second guy told him it was the worst book he ever read and he wanted his money back. So he mailed the positive letter to the negative guy and the negative letter to the positive guy and just wrote them both back with, "You might be right." I really loved that story. Because other people's opinions are just other people's opinions. That's definitely something you should be fully aware of as an artist. I'm faced with harsh criticism and rejection quite often, but I'm also showered with compliments and have quite a bit of artistic success. It's completely subjective.
I've been told that sometimes I "beat my readers over the head" with my message, but I just think it's
so
important! And it's worth repeating. Create art, express yourself! And support other artists! Or even just support other people in their endeavors. Even for non-artists, I just think it's really, really important to believe in yourself. I think it's important to not let your music die inside of you. Everyone is here for a reason. You all have some gift, some talent, something to offer to the world. So find it and do it! That's really all I'm trying to say. I just want to encourage people to live the lives that they've always wanted to live, ecourage people to be kind to each other, encourage people to be happy. It's a message of love. And I'll say it over and over and over again and use 18,000 exclamation points because I'm just so passionate about love and life and happiness and art!!!! And if other people have a different opinion, well, that's just their opinion. They own that, not me. And often, criticism/judgments have far more to do with the person criticizing that the person receiving the criticism. That's a good thing to remember, too.
I feel like I'm just at a point in my life where I'm really growing spiritually, and I'm really figuring things out. It's a constant journey, and obviously, there's still a lot I don't know, there are still many mistakes that I've made along the way. But I try to own up to my mistakes and learn from them. Even negative situations, feelings, thoughts, etc. have within them something you can learn. Every situation offers personal growth if only you can see it! And I guess I'm just really excited about my own journey and the growth that I've been experiencing. I've gone through a lot so far this year, with the ending of a very long relationship, shifting of artistic projects, getting ready to begin grad school, and I feel like it's caused this huge shift in my perception, in the way I think about things. And once again, I am SO grateful for all of the people around me who encourage that growth, people who support me and love me no matter what crazy mistakes I make. I can never tell you how much I appreciate you. And I think that's worth repeating myself over and over again! Because I love you guys. Everyone who is reading this. I love you!
Now, here, listen to some Tom Petty!