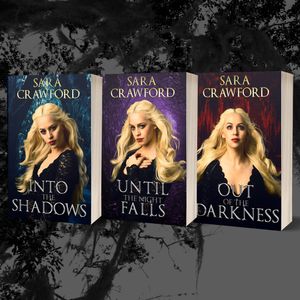 In February of 2019, I published Into the Shadows, the first book in The Shadow Vampires Trilogy. Then my life blew up when I was in the middle of writing the second book. I was finally able to get back to it though, and I am thrilled to announce I will be releasing the sequel, Until the Night Falls, on December 29, 2020 and it is currently available for pre-order. I have also re-released Into the Shadows with a new cover--making it available on Barnes and Noble, Apple Books, Google Books, Kobo, and other retailers in addition to Amazon.
Download Into the Shadows from my website.
Download Into the Shadows from your favorite retailer.
Pre-order Until the Night Falls from your favorite retailer.
The third and final book in the trilogy, Out of the Darkness, will be released in Spring of 2021. Stay tuned for more information about that!
Ever since I read Interview with the Vampire by Anne Rice when I was 15, I have absolutely been in love with all things vampire. Lost Boys, Dracula, True Blood, Twilight, The Vampire Diaries... I love them all! So I have been super excited to finally tell my own vampire stories.
Here's the description for Into the Shadows:
Chloe Chastain thought the mysterious stranger from the internet was just another obsessed fan of her favorite vampire books, and she grew close to him, letting him see into her soul. When she discovered that he was the actual dangerous vampire, Theodore Dupont, the protagonist of her favorite books, she vowed to forget him. 
After an encounter with her childhood bully goes horribly wrong, she knows Theodore is the only one she can turn to for help, and she travels to New Orleans to find him. As she learns all about the world of the vampires and her role in it, she tries to resist her connection with Theodore, but she's not even sure if she wants to anymore. 
When she finds out how much is at stake for not only Theodore and herself, but the entire New Orleans supernatural community, she's forced to make an impossible choice.
Readers have called it "fast-paced, can't put it down action and romance" and a "brilliant first book in a new series." I had a blast writing it, and I can't wait to be able to share the rest of Chloe and Theo's journey.