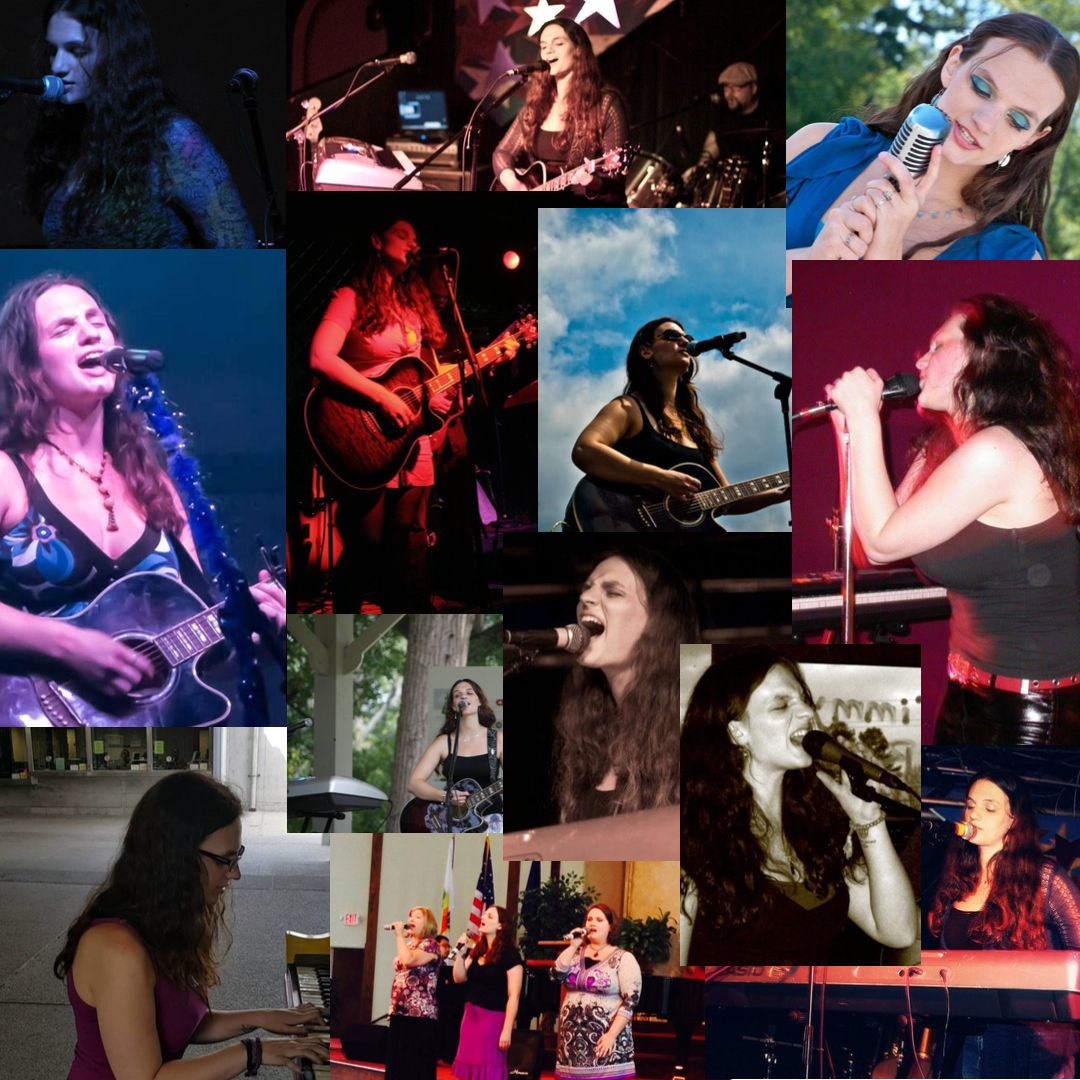 My first memory of a piece of art moving me is The Nutcracker. My mom took me to see it when I was five. Since then, I've known with my entire being that my purpose in this life is to be an artist. Unfortunately, I've had a hard time since then deciding what kind of artist I was going to be. I have been a singer, a dancer, an actress, a director, a playwright, a screenwriter, a spotlight operator, an author, a poet, a keyboardist, a guitarist, and a songwriter. 
Two of these things have been more consistent throughout my life, though: my love of music and my love of stories. Even when I was a ballet, tap, and jazz dancer as a kid, I always loved the music more than anything. I remember being in a school play of Little Red Riding Hood in fourth grade, and I played Red's mother. I got to sing a solo, and that was the first time that I really thought that maybe I could actually be a singer and make some of the music I loved so much. 
In middle school, I was a dorky kid, a loner. But in 8th grade, I got to be in chorus. I shyly tried out for the solo at the beginning of "White Christmas," and from that moment on, I had an identity. I was "the girl who could sing." I thought I was headed down the Broadway/choral singing path, and I was even accepted into the performing arts magnet high school as a vocal major. But after about a month, I decided it wasn't for me. I didn't want to sing choral songs and Broadway songs; I wanted to write my own songs. So I went back to the high school where all my friends from middle school were, worked at Schlotzsky's for months to save up to buy my first guitar, and started an all-girl band with my friends. We called ourselves Population 2 even though there were four of us. It didn't really matter that we didn't entirely know how to play our instruments or write songs. We figured it out together.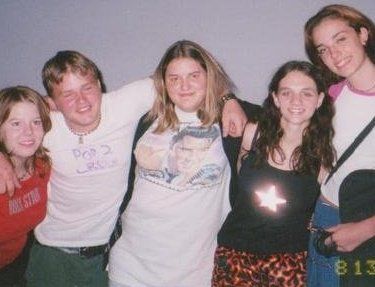 The four of us with our friend, Brandon, wearing a "Pop 2 Crew" t-shirt at our first gig
I remember watching Hole perform on a concert series they used to do on HBO with my bandmates, and we dreamed of the day that we could be on stage with our guitars, playing to thousands of people. And from about 2001 to 2013, that's what I tried to do. Although I did continue to sing and perform in choral groups and musical theatre throughout the years, I mostly played solo singer/songwriter gigs and band gigs. After Population 2, I sang, played guitar, and played keyboard in the bands, Ruby, Novo Luna, Long Absent Friends, Sara Crawford and the Cult Following, and Pocket the Moon.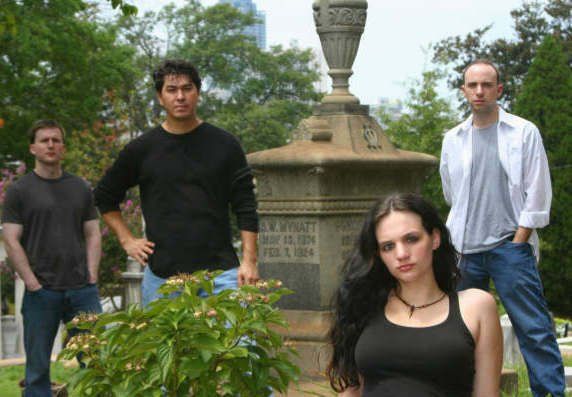 Ruby - I'm serious here, y'all. I'm in a graveyard.
I went through a lot of ups and downs with each of these bands, and each of these bands taught me something about who I was. I can remember so many great times playing with every single one of the people I played with. I remember the months Geoff, Brian, Adrian, and I tossed around ridiculous ideas for band names until we finally settled on Sara Crawford and the Cult Following. I remember Kylei, Michael, and I driving through ice and snow to play a Long Absent Friends acoustic show at Red Light Cafe. I remember playing at a gym with Novo Luna where we were followed by a belly dancer. I remember all of the conversations on porches during breaks at band practice. I remember all of the moments in each band when we communicated with each other without saying anything. You look at each other, and you just psychically know to play the last chorus or to go into the bridge or to switch to a G chord. I remember all of the songs we covered. To this day, any time any song I ever covered with any band comes on, I have to tell someone, "hey, I used to cover this song!"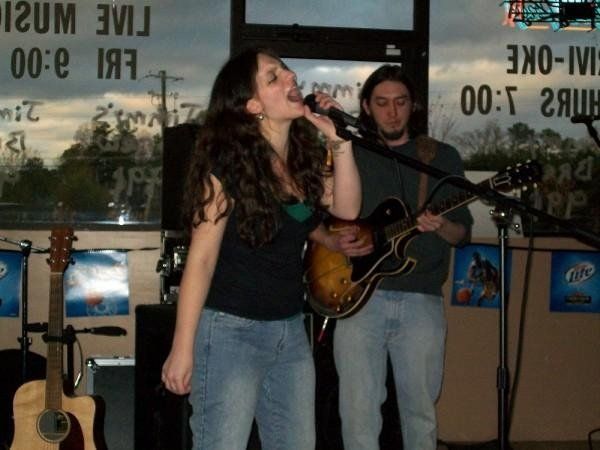 Novo Luna playing at a pizza place that I'm pretty sure no longer exists
During these years, I got to play so many great local Atlanta venues. Smith's Olde Bar, The Earl, The Star Bar, The Drunken Unicorn, The Five Spot, Lenny's. I got to release albums and EPs. I got to play in Nashville, Tennessee and Augusta, Georgia. I got to play a tequila bar in San Miguel de Allende, Mexico and an open mic night at a bar in Edinburgh called Lebowski's after I flew my guitar all the way to Scotland. I was voted Best Local Songwriter in the Best of Atlanta issue of Creative Loafing into 2010.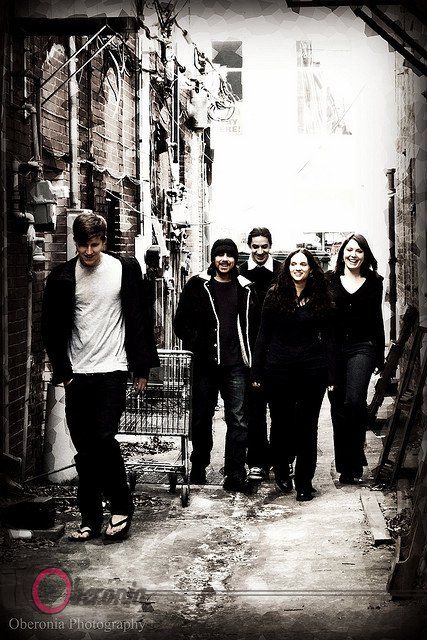 Long Absent Friends - the shortest-lived of all my bands. We really did become long-absent friends.
There were also a lot of disappointments. There were the shows I played for three people. There was the show I played on a tiny plywood stage at a festival in Piedmont Park where literally not one person listened to my set. There were dramatic arguments and encounters that only sensitive musicians can have with each other. There were all of the misogynistic assholes only female musicians have to deal with. And every time a band I was in broke up, it felt like a romantic break up. (And sometimes, they literally were romantic breakups.) And every night on stage, there was a vulnerable feeling that only comes with singing your heart out. Sometimes it was magical. Sometimes it was heartbreaking.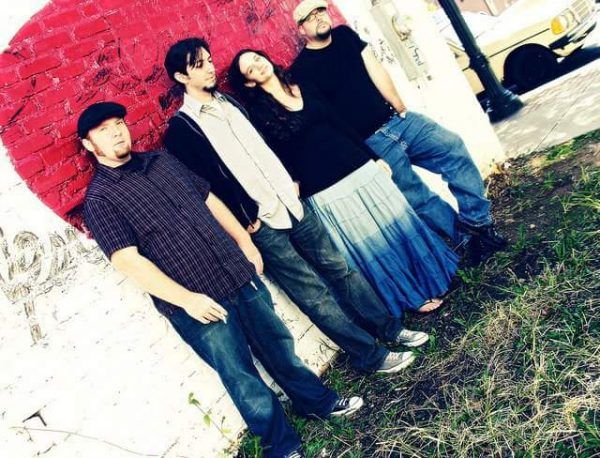 Sara Crawford and the Cult Following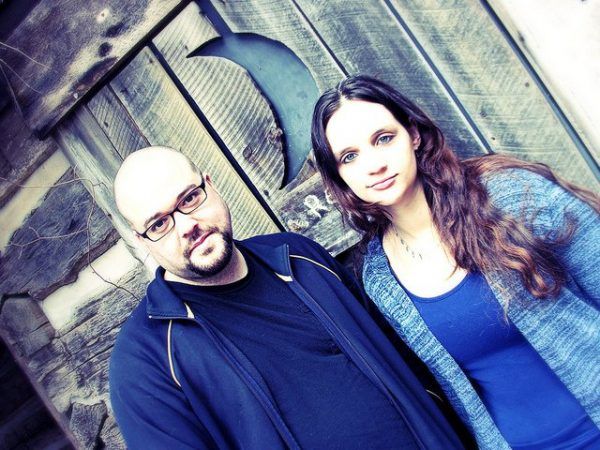 Pocket the Moon - and look there's an actual moon behind us, y'all!
And then there was Pocket the Moon. Geoff Goodwin had a real talent for taking these raw songs I wrote and making them into something special. He really understood what I was trying to do musically, and he helped me achieve the exact sound I was going for. To this day, our self-titled album is still one of my proudest artistic accomplishments, and I know I wouldn't be anywhere near as proud of it if he hadn't arranged, co-written, played, recorded, and mixed it. (It's so hard to believe that album will be ten years old in June!)
And for a moment there, I really thought we could make it. I finally could see myself on that stage we used to dream about when we watched Courtney Love covered in glitter, her guitar attached to her like another limb on her body. 
We even went on a little tour of sorts, piling an entire drum kit, a keyboard, two guitars, a bass, and maybe a PA (I can't remember, but it was a lot) into Geoff's Honda and playing actual gigs in Asheville, North Carolina; Nashville, Tennessee; Charleston, South Carolina; Chicago, Illinois; and open mic nights in as many cities as we could along the way. 
I remember so many nights when we had a gig, during the guitar solo of "Rooftops,"–a song about the healing power of art and coming together with other artists–I would just close my eyes, listen to the ethereal sounds of Geoff's guitar solo that he used the electronic bow on, strum my simple A and E chords on my acoustic, and just feel like I was exactly where I was supposed to be.
One of the best things about my time in Pocket the Moon, though, was how involved I got in the Atlanta music scene. I met so many amazing musicians that became good friends. We would all go see each other's bands and support each other. I met touring musicians from all over. I traded CDs with so many people that to this day, there are still CDs scattered all over my house. 
But eventually, we stopped playing, too. I played a couple more solo gigs in 2013, and on my 29th birthday in 2014, I played what I called "my last gig in that context" at Smith's Olde Bar. I had Geoff and my friend, Noah, back me up on bass and drums, and I booked my friends, singer/songwriter, Juliana Finch, and indie band, Finster, to play with me. 
At the end of my set, I covered an obscure Spiritualized song and got Geoff, Noah, Juliana, and Finster to sing the last chorus with me. "So long you pretty thing, God save your little soul/The music that you played so hard ain't on your radio/And all your dreams and diamond rings and all that rock and roll can bring you/Sail on, so long." I remember singing that verse and looking over at all of them and feeling so grateful for my time in the Atlanta music scene. And that obscure Spiritualized song that no one knew was a way for me to say goodbye.
And that was it. I thought I was done with singing, with being a musician, with being in bands. I sang a little bit off and on at church, but I even stopped that eventually. And my keyboard and guitar collected dust in my room. 
There was one day I was driving with my music on shuffle. "Tangled" by Pocket the Moon came on, and I heard myself singing, "you'll miss them when they're gone." And then I started the album over, listened to the entire thing, drove around Marietta, and had one of the biggest emotional breakdowns I've ever had. I was mourning for a part of me I thought I had lost. I was mourning for a dream I thought I lost. (This moment later became the inspiration for a scene I wrote in the book, Hurry Up, We're Dreaming.) 
I didn't think I could do it anymore. I didn't think I would ever be able to play on that stage like Courtney Love so I didn't see the point in trying. I thought I was getting too old to be in bands. All of my friends who used to come to my gigs were moving to other states, getting married, having kids, growing up. I didn't think anyone would come see me sing anyway. And so I stopped singing. 
I did still sing off and on at my church, but then life got complicated. I got married to someone with severe mental health and addiction issues, and during those years, I was just trying to get through each day. Eventually, I left him and after staying with my parents for the summer, I moved into my own apartment. 
Shortly after I moved in, I became obsessed with the song "Pink Rabbits" by The National. One day I just decided to learn how to play it on guitar. And eventually, I expanded my daily guitar playing to include some of my old songs. 
And then the pandemic hit. And we all had to readjust. 
One of the things I started doing was writing little songs for my friends for their birthdays on my ukulele. As silly as they were, they made me want to keep writing songs. So in July of last year, I wrote my first song in seven years. 
I never would have tried to play a gig at this point, but with everyone in quarantine, tons of musicians were doing live streams. I decided to play a set in my living room and live stream it. 
Most of the people who watched were my friends and family, and I was definitely rusty, but I had a blast. And for possibly the first time, I wasn't playing my music with the idea of achieving some goal--"making it" as a musician--but I was just playing my songs for the sheer joy of it. I was just expressing myself, expecting nothing in return. 
I was re-reading the first two books in my trilogy, The Muse Chronicles recently, and I realized that this trilogy is a bit of a love letter to music and musicians. In the acknowledgments of We Own the Sky, I wrote, "Thank you to all the musicians I have played with over the years, especially Geoff Goodwin, the other half of my former indie band, Pocket the Moon. Thank you to all of the Atlanta musicians who inspire me. I would never have been able to write this book if I hadn't had all the experiences playing music with you all." 
And I realized there has been a reason for all of it, for every single up and down, for every single song I wrote, every single show I played, every single musician I played with or met or saw, even if I only interacted with them for one moment, one song. Because these musicians have been my inspiration, my Muses. And maybe it hasn't been that I ended up singing on a stage with a band like I thought I would, and maybe I did stop singing for a time, but I never stopped creating. And even though I wasn't singing, the music was coming out in other ways–in stories or in plays or even in the way I worked with other writers or artists. Sometimes even in the way I write blog posts on here, I think. 
I've barely picked up my guitar since my living room set last August, but I've realized something important. Music is a part of me as much as breathing is or walking. And whether I'm singing at church, writing a story or play about music, or maybe eventually even venturing into an open mic night again, I can't give singing up. And if you're an artist or a creative person, you can't give up your art either. The music inside you never dies. And it doesn't matter if your audience is a thousand people, a hundred people, one person, or two cats, if there are songs inside of you, you have to sing them. If there are stories inside of you, you have to write them. If there are paintings inside of you, you have to paint them. 
Because if art or creation is part of who you are–whether it's singing karaoke or coloring in an adult coloring book or taking an improv class or writing poetry–you owe it to yourself and to the world to create. You won't feel entirely right until you do.