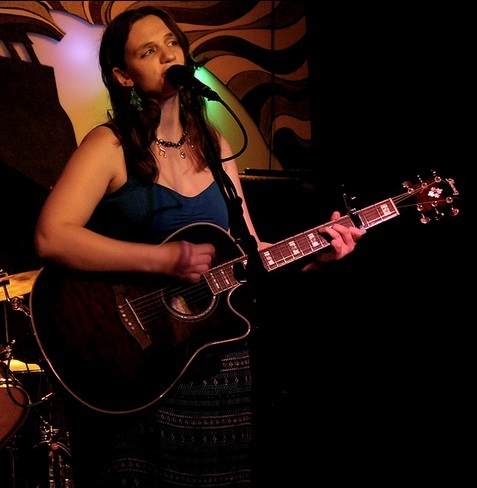 It seems like every time I go out these days, I run into someone who asks me when I'm going to play another gig. This is probably because I have always been in bands, always gigged a lot, especially during 2010, 2011, and most of 2012. I even booked a last minute gig this weekend. I ended up having to cancel the gig. The logical reasons were that I just had too much stuff to do this weekend--including some freelance work--and I was just overly stressed. But I think, also, it was more than that.
It felt as though I had already closed that chapter of my life: the Atlanta musician chapter. And I realized that I just couldn't play anymore shows. At least, not right now. And when I thought about the show I just played at the Drunken Unicorn, it felt kind of like me saying goodbye. Goodbye to the Atlanta music scene. Goodbye to Pocket the Moon, to Novo Luna, to Long Absent Friends, to the Cult Following, to Ruby, even to Population 2. Goodbye to Katrina, Ben, and Riley. Goodbye to "rage against the ex-boyfriend" songs and "you broke my heart" songs and unrequited love songs and the occasional "we can transcend all of this shit through art" songs. Goodbye to the empty shows I played at the Earl. Goodbye to the Atlanta music critics who wouldn't bother reviewing our album. Goodbye to the beer at band practice and the jamming out when it's storming outside and "why weren't we recording that i hope someone remembers that was so awesome!!!" and me singing songs about skeletons in the closet because I couldn't think of any other lyrics. Goodbye to the bandmates I dated and the ones I didn't date and the ones who wanted to date me but didn't and the ones I wanted to date but didn't. Goodbye to doing shots of lemon juice and cayenne pepper and carrying around a dry erase board so I wouldn't have to talk when I was trying to get my voice back before the gig. Goodbye to everyone who told me my songs sounded the same. Goodbye to the cheers from friends when I held that long note on "August" or sang "And I will not be denied and doomed..." Goodbye to looking at the ceiling, thinking of David or Brandon, before singing "Too Late" or "For Brandon." Goodbye to Smith's Olde Bar, to the Star Bar, to the Earl, to Wonderroot, to Mulligans!, to the BeAtlanta house parties, to the Drunken Unicorn. Goodbye to white girls covering Eminem. Goodbye to condescending bloggers. Goodbye to the dancing guy who always held up his arms and yelled "BA BA BA BA" every time we played "Victoria." Goodbye to drunken guitarists falling over during guitar solos and going on with it anyway at jam parties. Goodbye to the countless other musicians I played with--the ones who inspired me, the ones who made me rock out, the ones who made me ask if that song was about oral sex, the ones who gave me headaches, the ones who made me dance, the ones who made me cry, the ones who made me sing along. Goodbye to
driving downtown to the show
.
And on one hand, I was really sad about it. Because it felt like Atlanta wore me down. It felt like I was giving up because no one cared about all of my sad songs anymore. It felt like I was giving up on something that had always been a huge dream of mine. I felt like I had thrown in the towel, like I had been defeated.
But then I thought some more about it, and it really isn't that I gave up. Music has always been a huge part of my life, but writing is an even bigger part of my life. I have been filling journals since i was 7 or 8. (I'm on journal #90 right now, and I've only been numbering them since I was about 12 or 13.) I have been writing stories and plays and poems since a very young age, too. I used to write plays and have the neighbors perform them in our driveway when I was only 8 or 9. And even in my songwriting, I always felt that above all, I was a story teller. And now here I am having just completed my MFA in Creative Writing, having just published my play,
The Snow Globe
, and with my young adult novel,
The Muses
, completed, which is--I think--the best thing I have ever written and I feel that I'm really, really close to getting a literary agent. I have always tried to do it all--music, writing, school, work. At times, I have focused more on one or two of these things than the others, but I have always been a person who is involved in multiple projects. I feel I really need to shift my focus, though, and put everything I can into writing--into getting this novel out there for the world to see. Into getting my plays on stage again. Into getting my poems published. And this is why I've decided to take an indefinite break from music.
This doesn't mean that I won't ever write songs if I feel inspired or that I won't ever pick up a guitar at parties or jam with friends. This doesn't even mean I won't play open mic night at MacCrackens every now and then when I feel like bumming out the bar. (I mean, it is
right
down the streeet from me...) This doesn't mean that I won't post covers on YouTube sometimes if I feel like it. And you know, someday, I really want to be in another band, make another album, play more shows. I really, really do. And I'm certain that I will do these things again someday. But now is not the time for that, and it's not where my energy is. And I've been fighting that, but I think it's just time to accept it and not feel guilty about it anymore.
It's ironic, though, because a large percentage of
The Muses
is about music. Would I have been able to write this novel if I weren't obsessed with music--listening to it 24/7, always scouring the internet trying to hear the latest releases from new bands or going back to old records I'll always be in love with? Would I have been able to write this novel if I hadn't had all of those experiences as a musician in Atlanta? In all of those bands, as a solo performer? No, I definitely wouldn't have been able to write this novel, at least not the way that it turned out. And I think one of the reasons that it will (hopefully) speak to people is because my passion for music is coursing through the novel on every single page. At least... that's what I hope.
But as I am pressing the pause button on this aspect of my life, I just wanted to say thank you. Thank you to all of those people who have played music with me over the last 10 years. Thank you to everyone who has come to see any of my shows, to anyone who ever listened to my albums, to anyone who ever watched my videos on YouTube or listened to my music on iTunes or Spotify or Last FM, to anyone who ever played my CD in a bar or a coffee shop, to anyone who ever put my music in a film, to anyone who ever booked me at a gig, to anyone who ever invited me to a jam party, to other musicians who played shows with me and inspired me with their music, to the bloggers who were nice and the bloggers who weren't, to the critics, to the pretentious indie snobs, to the hipsters, to the real music lovers, to the people who just learned how to play guitar to get laid, to the techno geeks, to the rock n' rollers, to the angry metalheads, to the really nice metalheads, to the Christian rockers, to the country folk songwriters, to the experimental noisemakers, to the college and internet radio stations, to all of you.