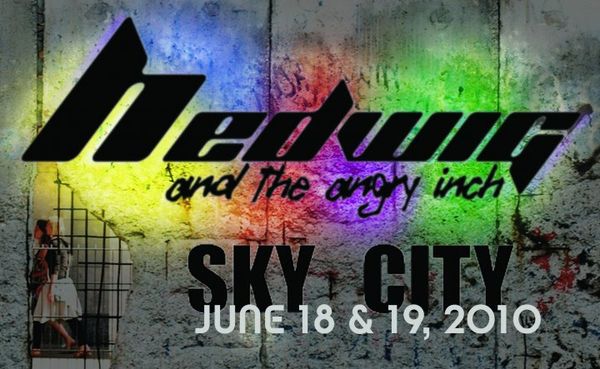 Hedwig logo by Melanie Rivera
Well, ladies and gentleman (whether you like it or not), I've been cast as Yitzhak in my absolute favorite play ever,
Hedwig and the Angry Inch
. I'm so, so, SO excited. I have such a history with this play! When they did the play in 2003 at Actor's Express a couple of my friends and I were the official groupies for the show. I think we saw it like 30 times. We'd dress up and make signs and virtually be a part of the show. I've always absolutely loved this play and the film. John Cameron Mitchell and Stephen Trask are totally brilliant. (Especially Stephen Trask! I love the music!) I could talk forever about the show, but I won't....right now...
I also booked another gig at Smith's Olde Bar in the Atlanta Room recently! I'll be playing there
Thursday, May 20th
. Hopefully with my new backing band! So far, the backing band consists of Geoff Goodwin on bass (of Novo Luna, Night Eve,
Goodland
, 18,000 other bands that have played around Atlanta - haha) and Brian Teague on drums (check out his solo stuff,
Eat the Sun
- it's badass), and we're adding Adrian Rhetts on lead guitar (Novo Luna, The Dali Standard). I'm really, really excited! These guys are all really solid musicians but laid back and fun to be around and play music with. So far, it's been really fun, and I love adding a fuller sound to my songs!
Speaking of awesome, I've realized lately how many friends I have that are creating incredible art, whether it's visual, theatre, music, film, literature, etc. I know I sound like a broken record with that, but it really makes me happy! So stay tuned. I plan on doing more promoting other people's art in the near future, in any way that I can!
Looking forward to an awesome weekend! Tonight, it's off to the con for Rocky Horror! Tomorrow, show hopping at Smith's Olde Bar and the Five Spot! And Sunday, Easter with my awesome family followed by practice with the groovy backing band. Plus, it has returned to FLIP FLOP WEATHER.
Life is good, people.