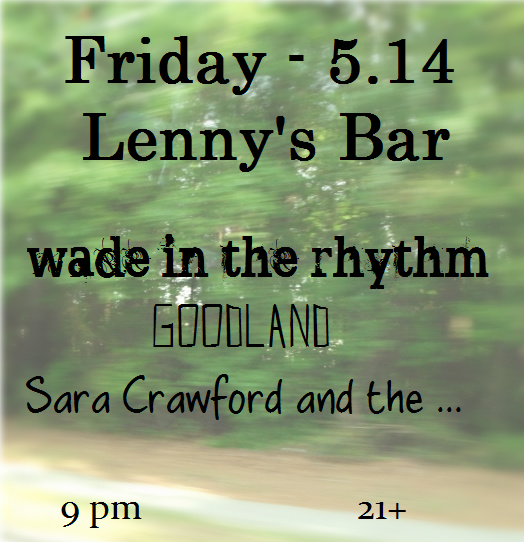 MAY IS HERE!!! May is always one of my favorite months of the year (and not just because my birthday is May 9th!).
I have had the opportunity to see SO many incredible musicians live recently! I recently saw Beach House (who I'm currently totally obsessing over) in Asheville, North Carolina. What a wonderful experience! First of all, I'm totally in love with Asheville. It's a beautiful town in the middle of the mountains, there are tons of really friendly, laid back people, and the music/arts scene is completely thriving. Thursday night, my little brother and I went up to check out an open mic night at the
Courtyard Gallery
. That was one of the most diverse and unique open mic nights I've ever been to! I had a great time. Afterwards, we just wandered around Asheville where TONS of bands were playing in several different bars/venues. We finally stumbled across a bluegrass band called The Blooms. They were totally ROCKING IT OUT! They had so much energy and passion! It was contagious! People were dancing and having a great time.
Needless to say, the Beach House show was completely amazing, totally worth driving four hours. (They actually played in Atlanta at The Earl the night before they played Asheville, but that show sold out in like five minutes and I couldn't get a ticket! And besides. Any excuse for a road trip!) I just love everything about them, their stage presence, the way Alex Scally's guitar parts intertwine with the organ and the vocals so well, Victoria Legrande's passionate vocals, the overwhelming longing and emotion in every single note. They played every song from their latest album, Teen Dream, which I was thrilled about because I'm completely in love with the album.
I loved being in Asheville. The whole town just seemed to be in love with music the way that I am and everyone seemed so supportive of local and independent musicians. I would love to live in a place like Asheville someday. And I plan on going back and playing a show there sometime in the near future, hopefully with my backing band.
Speaking of the backing band and my music, May is going to be a HUGE month for me/us.
-
Monday, May 3rd - 7:00 pm - I will be playing Open Mic Night at Eddie's Attic in Decatur.
This is a pretty big Open Mic Night. It's a competition, and the winners win prizes and get a chance to compete in the Open Mic Tournament! Musicians come from all around to play here. You have to sign up for it months in advance! One of the judging criteria is audience response so if you aren't doing anything tomorrow night (er...tonight?), come down and cheer me on :-)
-
Wednesday, May 5th - 11:00 pm
- I will be playing "9 to 5" by Dolly Parton for
500 Songs for Kids
at Smith's Olde Bar. This should be SO much fun!! And it's for a great cause. 500 Songs for Kids is going on all week, so check it out at some point!
-
Friday, May 14th - 9:00 pm - Lenny's Bar - FIRST SHOW WITH BACKING BAND
- First of all, I'm ecstatic to be playing with these guys. I always leave band practice with a huge smile on my face. They're giving my solo songs so much ENERGY! And they're all such solid musicians. I absolutely love playing music with these guys. And I'm REALLY excited about the Lenny's show because
Goodland
and
Wade in the Rhythm
will be joining us!! So make sure you come check that out!
-
Thursday, May 20th - 10:00 pm - Smith's Olde Bar - Atlanta Room
- We are playing another show (me and the backing band). The Atlanta Room is one of my favorite places to play, and I'm just so excited to be getting out there with the new band!!! So come out and support local music :-)
-
Saturday, May 29th - 7:00 pm - Cool Beans - Marietta, GA
- We'll be playing outside of Cool Beans, my favorite coffee shop ever. This show is free and all ages, so for those of you who can't get into Lenny's or Smith's, make sure you come check this show out!!!
Of course, we all know this blog definitely isn't just about me and my artistic projects. I just want to share art with people!!! I can't say that enough. I'm just so excited about it all!
So here are a few really cool events coming up in May where you can support local/independent artists!!!
MUSIC
-
May 5 - Krog Jam
- Electric Duane - The Ruination - Invisible Circus
-
May 15 - Star Bar
- A Fight to the Death (CD release) - Adron
-
May 21-22 - Freedom Fest at The Lake Claire Community Land Trust
- Wade in the Rhythm - Selmanaires - Charlie Wooten Project - Carnivores - The Nice Guise - The Jason Allbright Band - Invisible Circus - Abby GoGo and many, many more!
-
May 25 - The Earl
- Tealights - The Sour Notes - Little Tybee
THEATRE
-
Jitney - True Colors Theatre Company - May 2 - 30
-
A boisterous gypsy cab station offers a poetic thrill ride look into the vitality of life in Pittsburgh's Hill District in 1977. A son returns home after twenty years imprisoned to face his father whose station is threatened with demolition. Battling the forces of urban redevelopment, the motley crew of drivers plan, dream and muse in this rich blooded humorous testament to August Wilson's enduring legacy.
-
The Nerd
- The Rosewater Theatre - April 23 - May 22
-
One of the funniest plays ever written, this extraordinarily inventive, side-splitting comedy was first presented by the Milwaukee Repertory Theatre, then produced in Great Britain, then went on to Broadway. The action centers on the hilarious dilemma of a young architect who is visited by a man he's never met but who saved his life in Vietnam—the visitor turning out to be an incredibly inept, hopelessly stupid "nerd" who outstays his welcome with a vengeance.
VISUAL ARTS
-
Disaster Planning - May 1 - 30 -  Young Blood Gallery
- with Atlanta artists Steven Dixey, Stenvik Mostrom, & Kenn TwoFour