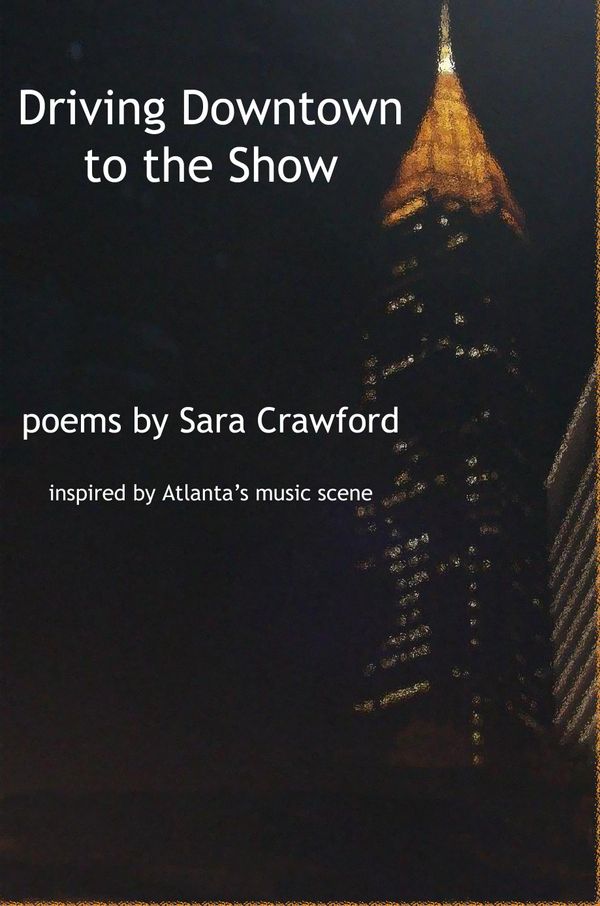 Driving Downtown to the Show
is a book of poems that came out of a grad school poetry workshop I took in spring 2011. Our professor had us come up with a poetry writing procedure, which would consist of ―rules that we would set for ourselves which would determine our writing schedules and content. We were to decide on a title before writing any poems, and the goal was to have a cohesive collection of poems by the time the semester was over. Because I was taking this class at a time when my main creative focus was my music career, I decided to use music as an inspiration for my procedure, particularly the Atlanta music scene.
Being in a local Atlanta band myself, with a long history of performing and enjoying many local shows in Atlanta's many wonderful and unique music venues, I was greatly inspired and I wanted to harness that energy. Our city has such a wide variety of musicians and performers, and on any given night, there are at least three or four excellent local shows to go see. I wanted to do a collection of poems that celebrated the musician and celebrated the entire metro Atlanta area.
I scheduled my writing time for after band practice, and I decided each poem must contain a band name. When I sat down to write a poem, I would look up the bands that were playing at some of my favorite Atlanta music venues, The Earl, the Drunken Unicorn, and the Star Bar, and I would incorporate one of those band names into my poem. I also would put my iPod on random, and whichever song played would determine the length of the poem based on how many lines the lyrics had or how long the song was if it was an instrumental song. (I also decided, just for fun, to slip in all of the band names of bands I've been in.)
I will be self-publishing this book in the spring. Stay tuned for news of a book release/reading event! 
For now, enjoy one of the poems from my collection. In this poem, the band name I used was Wild Nothing. (They are not at Atlanta band, but they happened to be playing at the Drunken Unicorn the day I wrote this poem.)
Driving Mixy #1: The 'Songs That Actually Mention Driving' Mixy

That night, you got into
a shopping cart,
and I pushed you
around the Pizza
Hut where we worked –
in the rain - laughing - we were
wild. Nothing
ever stood in between
you and I and adventure.
We'd sneak out of our slumber
party bedroom windows
to hop in my white Chevy Malibu,
alternating drivers, drinking
vanilla coke,
bitching about the boys
who dumped us both at the same time
("Those fuckers!"),
listening to the Driving Mixy –
     All I want to do is to thank you
     even though I don't know who you are
     you let me change lanes
     when I was driving in my car
Accelerating without a care
through the strip malls and chain restaurants
in the town
where we once covered
the church playground in sidewalk chalk –
happy faces and song lyrics –
until the cops caught us
and told us to go home,
but we were.