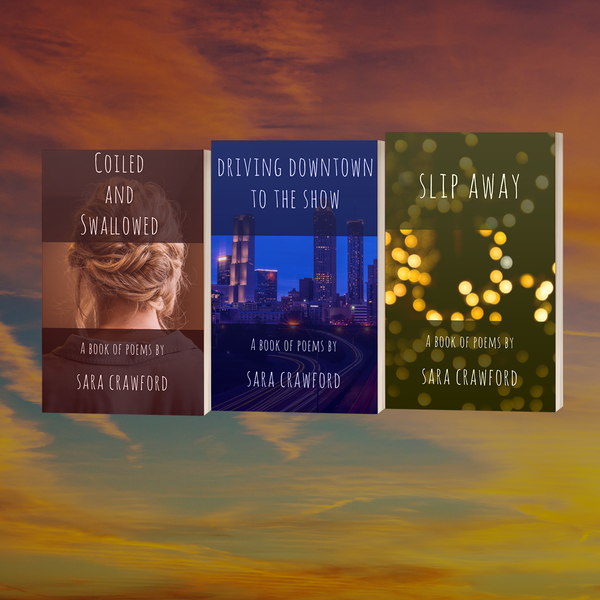 I'd like to announce that on March 23, 2021, I will be releasing Slip Away, my new book of poems.
At the same time, I will also be re-releasing my book of poems, Coiled and Swallowed (2010) as well as my book of poems, Driving Downtown to the Show (2012) with these new covers.
All three books will be available in ebook and print on all book retailers. I will also be recording audiobooks though those won't come out until later this year.
A few weeks ago, I had to put my cat, Frank, to sleep. I was devastated, and the only thing that helped was writing poetry. The idea for Slip Away was born. It is a collection of poems about loss. Actual loss through death, yes, but also the loss of relationships, the loss of childhood, the loss of dreams. 
I've been writing like crazy since then, and now I have a first draft of the entire collection. 
I know what you're thinking. "Wow, that sounds depressing, Sara." But actually, if you stick with me until the end of the collection, it has an uplifting message by the end. 
These poems are all very personal to me, and sharing them is giving everyone a peek into my soul, more so than my fiction or plays have.
For those of you wondering what's going on with my vampire trilogy, I've decided to shelf Until the Night Falls for the time being. I will definitely return to the trilogy at a later date, but my heart just isn't in it right now. Right now is not the time for me to write about vampires. 
The ebook versions of my poetry books will all be $1.99, or there will be a $2.99 bundle with all three books. (The print versions will be $4.99.) 
I am so excited to share these poems--both the old and the new--with you.