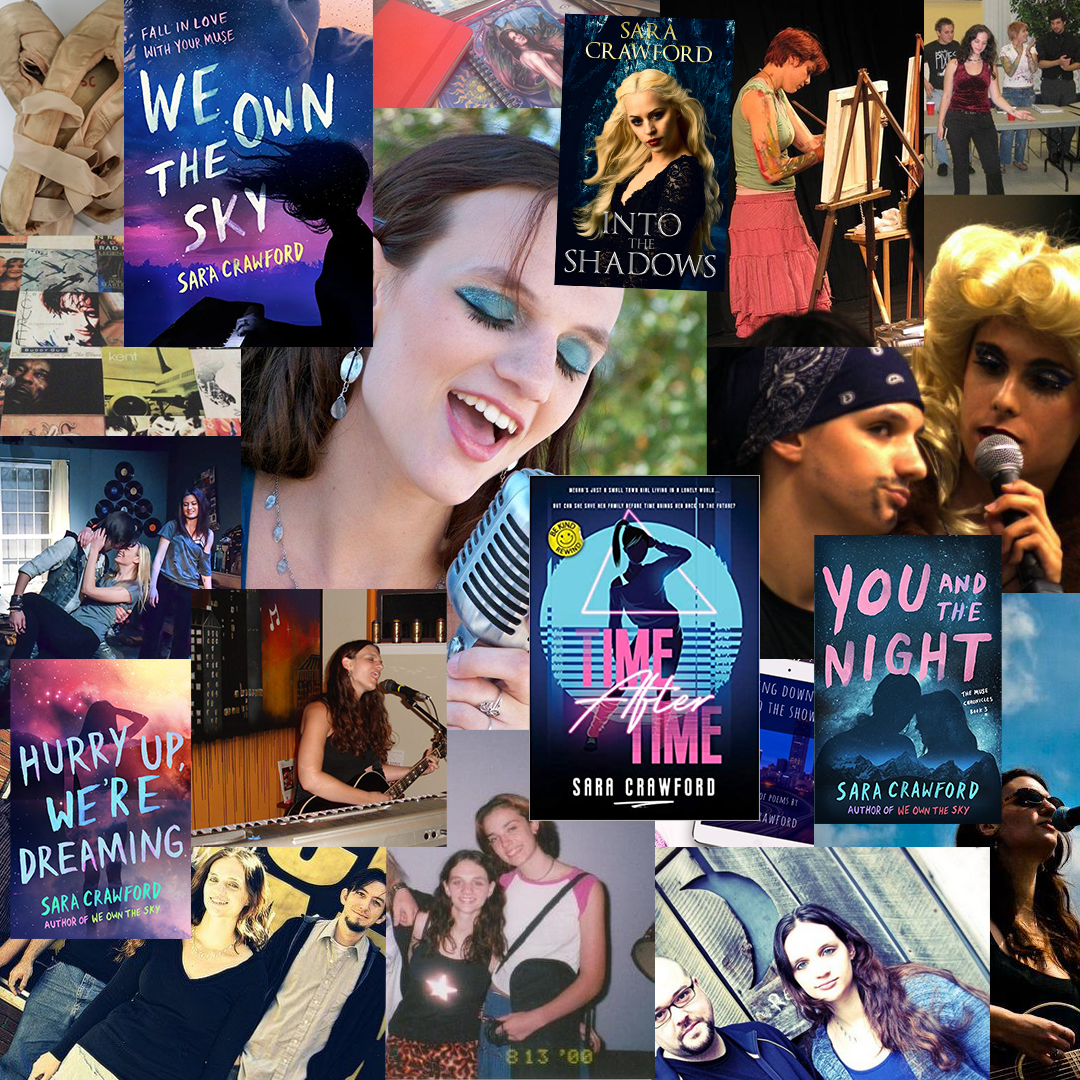 I remember when my mom took me to see The Nutcracker when I was five years old. I thought it was the most beautiful thing I had ever seen, and from that moment on, I knew the purpose of my life was art. 
This has taken on many forms throughout my life: dancing in ballet recitals, singing in the school chorus and church choir, writing little plays and having the neighborhood kids perform them on the driveway, taking acting classes, going to drama club, making student films, going to a performing arts high school for singing and then transferring back to my regular high school to start an all-girl rock band, performing in musicals like Peter Pan and Joseph and the Amazing Technicolor Dreamcoat, getting a BA in English and then an MFA in Creative Writing, filling so many journals and notebooks with poems and stories and diary entries that I literally have boxes and boxes in my closet, going to see a production of Hedwig and the Angry Inch at Actor's Express over 30 times, jumping from band to band and performing at my favorite Atlanta venues and even some venues in Chicago and Asheville and Charleston, playing guitar in bars in Edinburgh and San Miguel de Allende, producing and directing my own plays, writing a short screenplay and doing everything from holding the boom mic to picking up pizza for the cast and crew to performing a cameo as the stoner guitar player, hosting open mic nights at Unity North Atlanta Church and Cool Beans, seeing my plays on professional stages like Horizon Theatre and Out of Box Theatre, booking bands and putting together benefit shows, writing books and pursuing traditional publishing, getting a literary agent, self-publishing, publishing with a small press, singing in trios and quartets and ensembles at church, decoupaging a table with my favorite albums, running through the Tabernacle crying as Morrissey sang "Now My Heart is Full", studying writing with New York Times Bestselling authors, and hosting a podcast about art and creativity.
I have had so many amazing experiences creating my own art, sharing other people's art, encouraging other artists, and teaching other artists what I know. I have collaborated with, bonded with, shared a stage with, and connected with so many other artists--from warming up backstage with other singers from other bands to being blown away by original songs at open mic nights to hanging out on the rooftops with other writers in Mexico to road trips crammed into small cars with other musicians to a telepathic form of communication that happens when jamming out with other musicians to making people laugh on stage when you're not supposed to and now interviewing so many thoughtful and inspiring creative people on the Find Creative Expression podcast. 
And yet, I have not considered myself to be "successful" because while I have made some money on my books, plays, music, etc., I have never made enough money to not have to do other work to pay my bills. I have always thought of my "day job"--whether it's as an actual employee or a freelance writer and marketer--as something I was temporarily doing until I "made it" as an artist. Now, don't get me wrong, I never expected to be Stephen King or Taylor Swift. But there are tons of midlist authors, indie musicians, independent artists making a living on their art, and I always thought I would eventually be one of them. 
Recently, though, I've realized the number of artists that can actually make enough to pay their bills strictly on books, music, theatre, or art and don't have to also do some kind of "day job"--even if it's something related like teaching, writing books in a popular genre that you wouldn't normally write, speaking, etc.--are few and far between. 
But why is it that there are so many artists who I consider to be successful that also have to do other work? I realized this last week when I interviewed musician, Kim Ware, on the podcast. Here is a songwriter and musician that I have always considered to be successful. She's had five albums, she ran an indie record label for ten years, and she opened for the freaking Indigo Girls. It never really even mattered to me if she worked a day job or did other work. I realized I never actually knew if she did or not until I interviewed her last week. (She did manage to do all of that while working a day job!)
So I'm letting go of the idea that my art will ever be the only thing that pays my bills.
This might sound like giving up, but it's not. I have zero intentions of stopping writing, creating, playing music, encouraging other artists, continuing the podcast and other content, etc. If anything, this gives me more freedom. I won't have to pressure myself to write in popular genres or create a ton of content every week to create a successful brand. I can create what I want and release it when I want to. Which means if I want to write a book of poems about loss, I can!
I have also realized lately that the ability to create and be artistic assumes a certain amount of privilege. I know I am extremely privileged but over the past few months as I've been trying to freelance, there have been phases where I've had a lot of work and phases where I haven't. When I haven't had a lot of work, I've also been Doordashing, which is fine, but doesn't pay nearly enough for my current lifestyle (which isn't even extravagant at all, but just living a "normal" American existence is expensive). I've realized that I've had to use so much creative energy to budget, juggle bills, figure out who I can delay paying, figure out who I can borrow money from, etc. that I haven't had much left over for my writing, creativity, or art. 
So my heart goes out to everyone who is so busy struggling financially that they aren't able to be creative, and I hope eventually, I can get involved in outreach or helping somehow. I have dreams of opening up an artist colony where I could pay artists to come and create for a short period of time. Or if nothing else, I hope I can continue to offer my services to people for cheap or free as I have always done as much as I can. (I always try to take time to answer questions people have for me, I have always created a lot of free content for other artists, and I help people out with editing and graphic design and video editing and whatever else I can for affordable prices or bartering or whatever I can make work.)
I'm tired of doing the freelance hustle. I am looking for a new job. I'm looking for a long-term opportunity. I know I have a lot to offer in terms of marketing, creativity, and content creation, and I am open to whatever may come my way. In an ideal world, I would have a "day job" for an artistic organization or an organization that helps others in some way, but honestly, my main motivation right now is to cover all of my bills so that I have enough time and energy left over to do my real creative work. 
This also got me thinking about identity. In America, there is this tendency to define ourselves solely based on what we do to make money. We go to a party, and people ask us what we do. "I'm an accountant." "I work in sales." "I manage a restaurant." But might the more honest answer to that question be "I'm a father," "I'm a birdwatcher," "I'm a baker," or "I'm a hiker"?
So the next time someone asks me what I do at a party, I can say confidently, I am a writer. I am an artist. I am a creator. And why does it matter what I get paid to do? 
Now, a lot of people would probably tell me this is not something I should be admitting. This is not what people want to hear at job interviews. 
"Why do you want to work here?" 
"To pay my bills so I can do my real work." 
But ironically, I think by finally being honest about what I am looking for in a job, I can actually honor the "day job" more than I have in the past. By admitting that my day job is not my identity, I can actually pursue a day job that means something to me. I feel that if I take the pressure off the "day job" to be my identity, I can actually find more meaningful work. 
I don't know what the next chapter of my life is going to look like. I don't know what opportunities will present themselves to me. And that's kind of exciting.