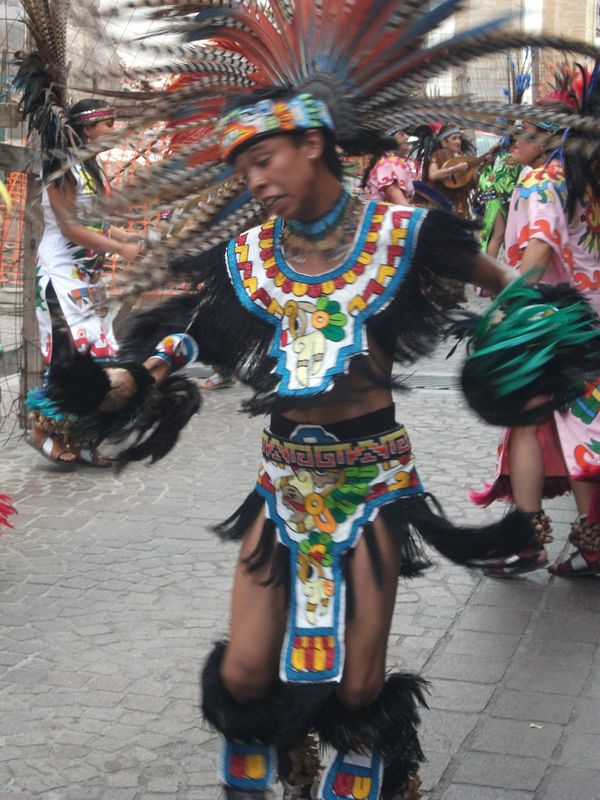 Photo by me from Guanajuato, Mexico
Hey everyone. I'm still in Mexico! Coming into the last week here. I can't believe it! I will be happy to come home to Atlanta, but sad to leave San Miguel. It's really beautiful here. And I'm definitely changing and growing. As a writer, as a person. I'm finding myself. Finding myself on the rooftops and the terraces with the mountains on the horizon, among the mariachi bands in the Jardin of San Miguel, in the silence of the Catholic churches, in the cleansing waters of the hot springs, climbing the pyramids, in the dancers on the streets of Guanajuato, in my Form and Idea class where our final project involves plaster elbows, listening to the other students read their work, in late night chats at the hostel - drinking wine on the terrace, in the workshops of my playwriting class, in the margaritas at La Cucaracha, on the buses to excursions riding through the rural parts of Mexico, in the markets where a language I don't know buzzes all around me...This has truly been an amazing experience. I've met so many incredible people, so many talented poets, playwrights, screenwriters, non-fiction, and fiction writers. I've learned so much about writing, about art, about another culture, about myself. And I'm incredibly grateful for that.
Well, I'm definitely going to be jumping right back into my crazy busy life when I get home, and I'm really excited about that! I have a lot of exciting upcoming events:
Wednesday, August 4th - solo/acoustic show at Actor's Express - A night of theatre and music! - Working Title Playwrights presents Essential Shorts - new short plays written by WTP affiliates presented in concert readings - as part of Essential Theatre's Festival of Plays! I will be playing an acoustic set after the show. See both for just a five dollar donation! The show starts at 7:30 pm - 887 W Marietta St NW # J107, Atlanta, GA 30318
 
Sunday, August 22nd - solo/acoustic show - Be Atlanta's Acoustic Sundays - 10:00 pm - FREE - all ages - 197 Howell Dr. SE, Atlanta, GA
 
Saturday, August 28th - solo/acoustic show - Grant Park Summer Shade Festival - Historic Bandstand stage - 12:30 pm
 
Friday, September 3rd - Sara Crawford and the Cult Following - Smith's Olde Bar - The Atlanta Room - 9:00 pm - $8 - 21+
 
Tuesday, September 7th - Release of my chapbook of poems, Coiled and Swallowed, through Virgogray Press
So that's what's going on with me. I hope all of you back in Atlanta are having a great summer full of good times and wonderful art of all kinds! :-)
And I thought I'd pass this onto you, from Kyle McCord (who was featured in my
Poem of the Week
back in September). For those of you in Atlanta, you should definitely check it out!
Sunday, July 25th
come hear Dream Horse Press authors Kyle McCord and Keith Montesano read from their recently released books. They will be joined by special guest Kara Candito. The event will be at 6:00 p.m. at Beep Beep Gallery at 696 Charles Allen Drive, Atlanta. The event is part of the DHP First Book Tour, with readings in seventeen different locations across fourteen states. For any questions about times or directions, contact: kfmccord@gmail.com, or find us on Facebook.

Kyle McCord's book, Galley of the Beloved in Torment, was the winner of the 2008 Orphic Prize. He's received awards or grants from the Academy of American Poets, the Vermont Studio Center, and the Iowa Poetry Society. He has work forthcoming or published from Boston Review, Cimarron Review, Columbia: a Journal of Art and Literature, Cream City Review, Gulf Coast, Volt and elsewhere. He currently lives and teaches in Des Moines, Iowa.

Keith Montesano's, Ghost Lights, was published this year by Dream Horse Press. Other poems have appeared or are forthcoming in Hayden's Ferry Review, American Literary Review, Third Coast, River Styx, Crab Orchard Review, Sonora Review, Ninth Letter, and elsewhere. He currently lives with his wife in New York, where he is a PhD Candidate in English and Creative Writing at Binghamton University.

Kara Candito is the author of Taste of Cherry (University of Nebraska Press), winner of the 2008 Prairie Schooner Book Prize. Her poems and reviews have appeared or will appear in such journals as Blackbird, AGNI, Prairie Schooner, The Kenyon Review, Gulf Coast, Sycamore Review, Nimrod, Contrary Magazine, The Rumpus, Best New Poets 2007, Diode, New South, and The Florida Review. She has received awards for her poetry, including an Academy of American Poets Prize and scholarships from the Bread Loaf Writers' Conference.
So there you go. Make sure you check that out! It should be a great event.
I hope all is well back in the USA.