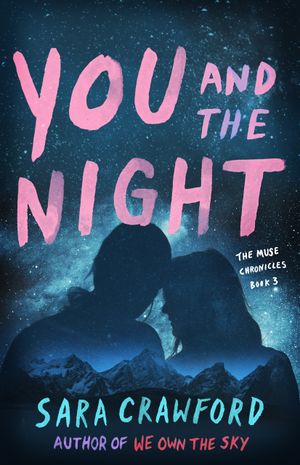 Here's the cover for Book 3 of The Muse Chronicles. Designed by Caroline Teagle. Isn't it gorgeous? 
You and the Night - Book 3 in The Muse Chronicles - Coming 4.30.2019
She's designed all the covers for The Muse Chronicles, and they've all been gorgeous:
Of all the books in this trilogy, this one was by far the hardest to write. I started working on it in January of 2018. It doesn't usually take me over a year to finish a book. But I kept going back and re-writing the first 100 pages. It's in pretty good shape right now, but I'm about to send it off to some beta readers and critique partners. 
I have grown a lot as an author in the writing of these three books. I know they definitely have their flaws, but I think the main theme of art belonging to everyone is evident. 
It's going to be hard to say goodbye to Sylvia and Vincent. This is ultimately a love story, but Vincent represents art/music. So it's really just about a girl who falls in love with art. Do they have the healthiest of relationships? Clearly not. He's not even a real person technically. But every single artist I know has had an unhealthy obsession with art. We've all had times where we stayed up all night writing or playing guitar. We've had days when we forget to eat because we're so enraptured in our paintings. 
Not everyone is going to get that, and that's okay. Every book is not for every reader. Art is so subjective. But then it speaks to so many people because all I did was personify my relationship with art in Sylvia and Vincent. 
Some things surprised me as I kept writing. For example, I ended up absolutely loving Ryan, the bass player. He's portrayed as being a jerk, but there's just something lovable about him. We've all had friends like that--people we know are good people deep down, but act like a jackass to cover it up. Ryan is a side character, but I found myself really enjoying writing him. You can always count on Ryan to just say what he's thinking. Maybe it's that authenticity I love.
Vincent and Izabella came out of a play I wrote in 2006 called Painted. So I have literally been with some of these characters for over a decade. Maybe that's why I had such a difficult time with this third book. I knew it would all be over. 
Sure, I might return to this universe in the future. There are some different ways I could go with that. But Sylvia and Vincent's story has come to a conclusion. I really love the way I ended the whole thing, and I hope readers do too.
So the book is coming out on 4.30.19. I have just put it up for pre-order. (It's in the review process so it's not showing up yet.) For now, I hope you enjoy this book trailer. I had so much fun making it. (And there really aren't any spoilers for the first two books in it.)