TWO COVERS IN ONE DAY!? What is happening?
Okay, so I decided to do a little mini-series in my YouTube covers. Here are a couple of tunes from some of my favorite Atlanta musicians who were a huge part of my coming of age, both as a musician and as a person.
First up, I decided to cover "Indie Queen" by Marvelous 3.
Alright, when I was about 15, most of the girls my age were obsessing over the Backstreet Boys and NSYNC. But me, I was obsessed with local rockers, Marvelous 3! (Even at 15, I was so indie!) Now, they weren't really simply "local" rockers, especially after their release of
Hey! Album
and their success with "Freak of the Week" on the national level, but I still thought of them very much as an Atlanta band. When you went to a Marv 3 show in Atlanta, there was a feeling of "this is one of
our
bands!" Maybe this is my equivalent to cheering on a local sports team, I don't know.
Since the first time I heard
Hey! Album
, though, I was OBSESSED. And I do mean OBSESSED. I took all of that teeny bopper energy that is just inherent in teenage girls (especially those who are artistically inclined...or maybe just those who tend to be obsessive and dorky about things) and poured it into this band. I had a Marvelous 3 wall, I had Marvelous 3 PANTS (I took an old pair of jeans and decorated them with Marv 3 lyrics in sharpies), I caught a guitar pick at one of their shows and wore it on a necklace, I went and saw them live everytime they played in Atlanta and made signs to hold ("PLAY KATRINA!") and jumped around and screamed and rocked out like a crazy person. I even got to meet the band a few times and got Butch Walker to sign my first guitar (which I appropriately named Katrina). When Jayce, the bass player, came into the Schlotzsky's where I worked, I NEARLY FREAKED OUT. I tried to keep it together externally but once he noticed my guitar pick necklace, it was all over. I even named the table where he sat the OHMYGODJAYCEFROMMARVELOUS3 table. One time at an in-store performance and signing at Best Buy, Jessie, Kyndal, Bre, and I actually gave Butch Walker a tape of our all-15-year-old-girl band, Population 2. (Dear God, I hope he never listened to that! Although it did have some of our more profound songs on it like "Bitchy Whore in a Little Skirt.")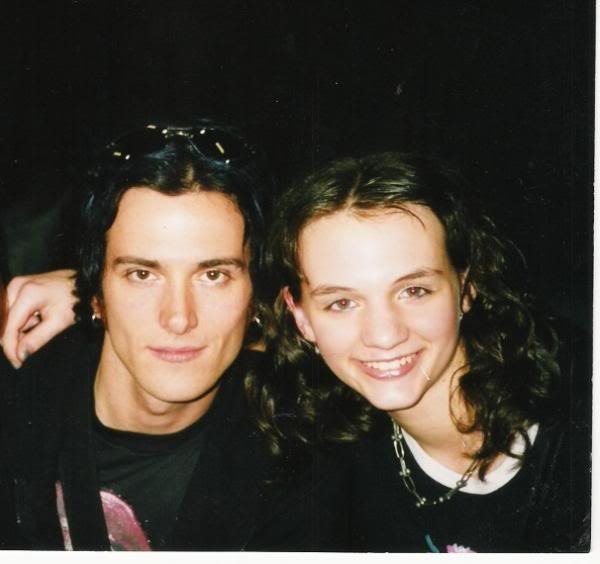 Me and Butch Walker - I was 14 or 15 in this picture (and probably trying not to PASS OUT)
"Indie Queen" was always my favorite song on the album, though, and is still one of my favorite songs in life. At 15, I was convinced it was my anthem. (I even used "theindiequeen" as my livejournal user name.) Now, of course, Butch Walker has gone on to be much more than an "Atlanta musician." He's one of my idols as a songwriter, as a performer, as a musician in general. And I have certainly mellowed out and dialed down the teeny bopper obsession (I would hope so now that I'm 26!), but every time I hear
Hey! Album
, a small part of me still goes back to that 15-year-old girl jumping around in a packed crowd at The Tabernacle staring up at these musicians in total awe of their music, their performance, their energy...it was truly too much rock for one hand.
My next cover is a song called "Story of Your Bones" by Jennifer Nettles Band. This was Jennifer Nettles's project before Sugarland. Another great example of someone who transcended the Atlanta music scene to gain recognition at the national level. There was a moment when I was watching her sing at Presidet Obama's inauguration on TV when I thought "I used to go see her at the Variety Playhouse...she used to play venues that I'm playing now like Smith's Olde Bar, and she's actually
singing for the President of the United States."
It made me feel proud of Atlanta. We turn out some great musicians here.
I first saw the Jennifer Nettles Band on the Locals Only stage at Music Midtown. (Or was it Big Day Out? I can't remember. One of those 99X things.) I was immediately floored. If Marvelous 3 were too much rock for one hand, Jennifer Nettles was too much
soul
for one hand. I was completely in awe of her songwriting, her amazing vocals, her ability to play many different instruments. She was practically overflowing with musical talent. I was particularly in love with this song, "Story of Your Bones." Everytime she sang it live, it was so powerful, it brought me to tears.
I've never done an acapella cover on YouTube before. And while it's slightly terrifying for me to not have a guitar or a keyboard, I decided to do it this way for a couple of different reasons. First of all, I've decided to audition for
The Voice
(which I'm doing on Friday in Nashville - Geoff and I will be on tour with
Pocket the Moon
when they come to Atlanta) and you
have
to sing acapella for the first auditions. I've decided to sing this song for auditions so I thought that doing it for YouTube would be good practice. Secondly, since I was already paying tribute to my teenage years and the musicians that inspired me in the Atlanta music scene, I thought I would also pay tribute to one of the moments in which I realized how important singing was to me.
I was always kind of a shy and quiet kid. When I was forcing myself to be social, it always came out in an awkward and dorky way. (I'm still awkward and dorky, but I'm a lot more comfortable with my awkwardness!) I never really felt like I could really
connect
with people in my age group. Anyway, so one weekend in 10th grade, our high school chorus was taking a trip to Six Flags. On the bus ride, everyone was singing various songs, and eventually some of my friends asked me to sing one. The only thing I could think to sing (probably because I was obsessing over this album at the moment) was "Story of Your Bones." So I just opened my mouth and this acapella version of this song came out. And in that moment, there was something about the way my friends were smiling at me that made me know that I was
supposed
to be a singer. Through that song, I was able to connect with them in a way I had never been able to before. There were so many songs that had
helped
me through so much of the difficult things about coming of age, so many songs that made me feel like I wasn't alone, ("Don't forget the songs that made you cry and the songs that saved your life," as Morrissey would say), and that was the first time that I actually believed that maybe one day, I could be that for other people. Maybe someday, I could create music that would help someone get through life, the way so many musicians have done for me.
So I thought I'd pay tribute to two bands that
definitely
helped me get through high school with these YouTube covers. Hope you enjoy!