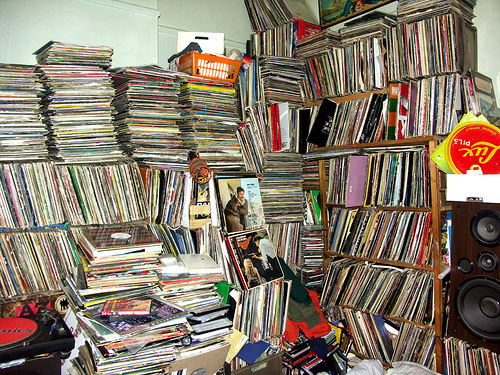 For the Love of Music
by
pa gillet
on flickr
I feel like updating a totally random blog. (Because that's really what I should be doing right now...But I seem to be the queen of procrastinating by distracting myself with totally useless activities on the internet. "OH! I need to take this 'Which Literary Movement Are You?' Quiz on Facebook!")
I'm currently listening to The Killers. Say what you want, but I love The Killers. This is why no one can call me a music snob. Because, sure, I may listen to totally obscure bands who no one has ever heard of (except maybe their roommates when they're playing really loud in the apartment), but I also love The Killers, Michael Jackson, Lady Antebellum, and Hanson. Yes, Hanson. I said it! Those kids were like 13 when they first came out, and they all played instruments and wrote their own songs, which is more than you can say for most of the Disney-channel teen pop stars of today. And you know, in an mmm-bop, it really
is
all gone, people.
I have some super exciting things coming up that I'm, well, excited about. Playing a benefit show for Haiti with Long Absent Friends, my upcoming poetry book, upcoming play production. (The Apprentice Company at Horizon Theatre will be performing one of my plays in May.) (I'd tell you more about the play, but it's still in development...*cough*.) (That's the procrastinating playwright's way of saying "I'm still writing it.") Anyway, I'm really excited to be working with Horizon again. They're just a really great theatre company with great people. The building feels a little bit like home to me. Ever since my time in the Young Playwrights Festival in the summer of 2008, I've felt really comfortable there, like I can just write and express myself as an artist and grow and develop. The workshops I've been through there, whether it was at the YPF or during my time as a playwriting apprentice last year, have been the most helpful workshops ever. No one was snooty or pretentious, but they told me how it was. I heart Horizon Theatre. They're supportive of new works and local playwrights, and they just put on really great plays.
You know, on a totally different subject, I had a lot of fun during my time being an album reviewer for Have You Heard and Atlanta Guardian, and I learned a lot, but I don't think being a critic is for me. Ultimately, I feel like all art has value (yes, even Rebecca Martin's album that I totally trashed on Have You Heard). Because while I might fall asleep when listening to Rebecca Martin, someone else somewhere could pop that CD in and be in tears, thinking it's the most beautiful thing they've ever heard. All art is subjective, all art has value, and I don't really think that there's much value in comparing art. For example, how can you compare Bob Dylan to Radiohead and say which one is "better"? Sure, there are some technical standards in any art form. But does being able to play the guitar better than any other person make you a better artist? There are some paintings that I've seen where you could tell the artist was extremely talented, but they didn't make me feel anything. There was no emotion in them. And I was watching
American Idol 
the other night (I don't know why!) and I was thinking a lot of my absolute favorite singers would be crucified if they went on that show as unknown musicians (Billy Corgan, Thom Yorke, Bob Dylan, Victoria Legrand, etc.). Every person is approaching art from a different perspective, every one values art for different reasons. It's completely subjective. So, yes, the blank canvas that someone just hung on the wall and called it "emptiness"
is
art, I think. You might not get anything out of it. Maybe it didn't even take any talent to create. But it's still art because it's the meaningful expression of something. So, basically what I'm saying is screw the critics. Sure, it can be fun to read reviews. Sometimes it's even fun to write them. But I think I'd rather focus on the positive aspects of a piece of art and try to get something out of the art that I come across. (I'm not saying criticism isn't valid or other people shouldn't be picky about their art, but I'm just saying. It's not for me. And everyone, artists, critics, and audience members alike, should always keep in mind that all art
is
subjective and opinions are simply just opinions.)
I feel like I rant about that a lot. I guess it just bothers me when people make fun of other people for liking certain things, like The Killers or
Twilight.
Sure,
Twilight
is not a great classic work of literature, but it makes a lot of people happy to read it. So, basically, I'm sick of people who have this "I'm better than you because the art that I read/watch/observe/listen to is better and more intelligent that the art that you read/watch/observe/listen to." No, it's not. There is no quantifyable to way to argue that
War and Peace
is better than
Twilight,
even if most scholars would agree that it is. Basically, I think people should just let other people be happy and stop bitching about it. That's really what I'm tired of, I guess. Bitching. (And when I say bitching I don't mean "poking fun at" or "being sarcastic.") I'm not even saying that I don't bitch about things (because I certainly do), but I guess I just wish that people on a whole would be more positive about things, maybe myself included, or at least that's what I'm trying to do.
I'm not preaching or anything like that. I'm simply just rambling. Writing down my thoughts. I mean, I don't really know anymore than anyone else does.
Recently, my parents got me a record player for Christmas. My record collection is somewhat limited at the moment. (Probably due to the fact that I didn't have a record player before.) It consists of a Lou Reed record I bought for 3 dollars in Canada, two David Bowie records, The Boggles LIVE at the Star Bar in 2000, and two Beatles records that aren't technically mine (but I've been trying to get them back to their owner for a while and she seems to have forgotten about them...so does that make them mine? Or am I just holding them? Either way.) So, I've been listening to a record every night. It's sort of my bedtime ritual. I'll sit down, put a record on, and write in my journal. I'm quickly running out of records to listen to, though, so I'll soon have to dip into my parents' extensive collection. I've decided I'm just going to listen to all of them, even though I know some of them I probably won't like. It's good to give new things a shot, though.
The new Beach House album (which...isn't...technically out yet) is absolutely
amazing.
I can't stop listening to it. It's in my car, it's in my room, it's on my iTunes work playlist. It's just...incredible. I'm completely in love with it. I can't even explain to you why. Maybe that's why I can't be a CD reviewer, because I feel like words don't do music justice. Sometimes I just want to write a play where a character walks on stage and just plays a really amazing album and just sits in a chair and makes the audience listen to it. Somehow, I think I'd have a hard time getting a theatre to pick that one up, though. Haha.
Songs that were playing while I wrote this:
1. Read My Mind - The Killers
2. Rhinoceros - Smashing Pumpkins
3. Real Love - Beach House
4. Hail Mary - Pomplamoose
5. Phonytown - Rogue Wave
6. Like Treasure - Editors
7. Better Times - Beach House
8. One Love - Bob Marley