First of all, thank you SO much to everyone for all of the support with my CD release! I was almost in tears at the end of the CD release show last Friday because I just simply couldn't believe how many people were there, how enthusiastic the audience was, and how excited everyone was to pick up a copy of
Unsent Letters.
I think it was the best solo show I've had, and I really appreciate the fact that there are so many people in my life who are
so
supportive of me and my music.
Recently, I saw a picture of a band that I was in in high school called Population 2.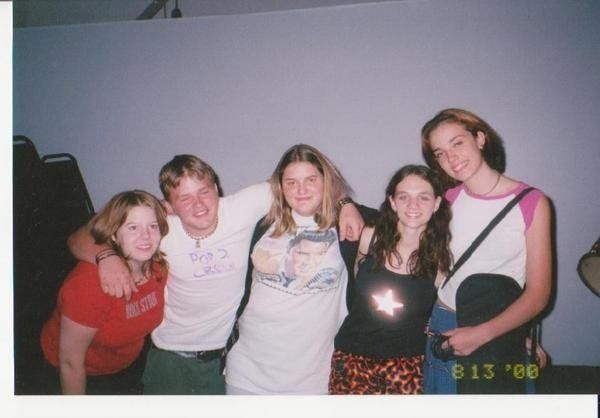 There we all are, Kyndal Foshee (who played guitar and sang), Brandon Rich (who wasn't actually in the band but...as you can see from his shirt...was our "crew"), Jessie Gayhart (who played drums), me (I played guitar and sang), and Bre Hicks (who played bass). I realized that the date on that picture was August 13th, 2000, which means I've technically been a musical performer for nearly a decade. It doesn't seem like it's been that long!
Population 2 was a great experience! We were all really young (14 when we started!), and most of us were still learning how to play our instruments, really. But we wrote really fun songs, expressed ourselves, and actually played shows! I've performed in some way (chorus, dancing, theatre, etc.) ever since I was five years old, but this was my first experience with being in a band, writing songs on guitar, working with other musicians.
After Pop 2 broke up, I wasn't in another band again until I was just out of high school. Ruby.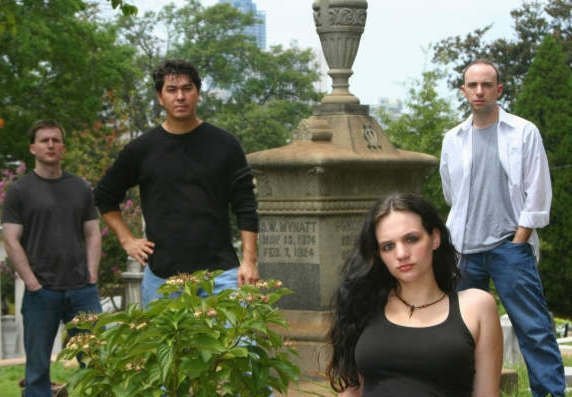 This band was definitely a great experience for me. I got the opportunity to play real gigs in real music venues downtown, and I worked really hard to fine tune my craft, learning how to become a better musical performer and how to write better vocal melodies. I sang with Ruby off and on from 2004 to late 2006. I think in that time, I grew enormously as a songwriter and a performer, and I learned a lot about working with other musicians.
In 2009, I joined up with Novo Luna.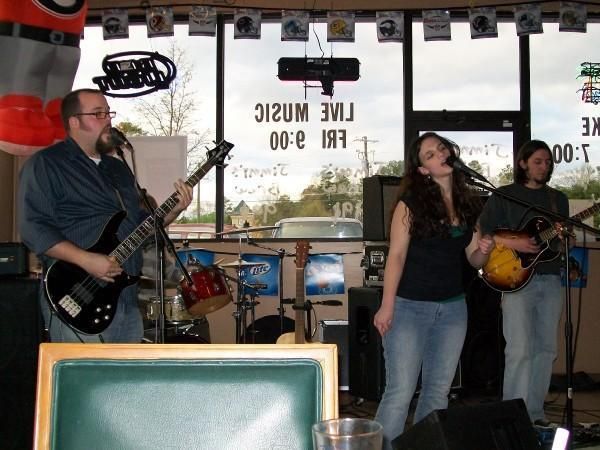 I had so much fun with these guys, and I really, really loved the vocal melodies that I came up with to their music. I sang my heart out in this band! Every now and then I will still hum the songs to myself. And all of the guys in Novo Luna are incredibly talented! I'm really excited to see what kind of music they put out next as we've all gone our separate ways and started new projects.
So I'm looking back and sort of reflecting, and I've realized that bands are a lot like relationships. Each band has taught me so much, I've had so many unique experienced with all of these bands. The music was very different in all of them. Population 2 was a mix of alternative, rock, and just extreme silliness. Ruby was mostly classic rock sounding. Novo Luna was a mix of blues, funk, and alternative.
I'm so glad that I got the chance to perform with all of these people, though, and have all of these experiences. Each band brings some new lesson, each time you work with a new musician (or any artist, really) you give something to each other. Even negative experiences I've had have taught me more about myself as a musician and sometimes even as a person.
And now, I'm going on a "new journey," if you will, with a new band.
Long Absent Friends
.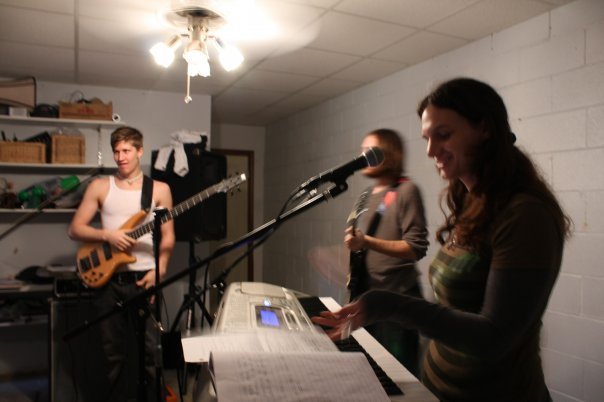 I'm really excited about this band because it's more along the lines of the music I frequently listen to (i.e. Stars, Smashing Pumpkins, Broken Social Scene, Slowdive, Arcade Fire, etc.). I love all kinds of music, but most of the time you will find indie/alternative in my CD player. Also, I have the opportunity to play piano in this band on almost every song, which is new and very exciting for me. So we have some upcoming first shows:
Sunday, December 27th - 10:00 pm - Smith's Olde Bar - The Atlanta Room - 21+ - 5 dollars
Friday, January 8th - 8:00 pm - Red Light Cafe - all ages - 7 dollars
I'm really looking forward to these shows! I'm excited to play all of these songs that we've been working really hard on over the past few months for everyone. This band is completely different from bands I've been in previously, and it's very different from my solo stuff as well, but I really like the way the music is developing. We even have a violinist (Kyle Weisse). I've never played with a violinist before so it's really interesting! Michael Tillman is playing guitar and singing. (I've always wanted to be in a band that had male and female singers.) His guitar work is a mix of heartbreaking emotion, catchy hooks, and an interesting manipulation of sounds. To top it all off, we have a really tight rhythm section with Kyle Hilkin (from the popular Incubus tribute band, Human Magic Marker) on drums and Ben Hopper on bass. It's just enthralling to be able to write music and play with such talented musicians. Also, for the first show, we're covering two of my absolute favorite songs, "Wake Up" by Arcade Fire and "Tonight, Tonight," by the Smashing Pumpkins.
Anyway, I just wanted to say a big thank you to everyone who supports me. I feel like a lot of you have been on this crazy ride with me, always coming out to share and experience my various musical projects. The CD release show really hit me hard with that fact, and I just wanted to tell all of you how much that means to me. It's very difficult to be an artist, especially an unknown artist. There are many times when you put your entire self out there in your art just to be crushed up and spit on, and with all of the rejection and criticism, it's really nice when you have a group of people who will always support you and appreciate the art that you create. So to everyone who has ever come to see one of my shows, bought one of my CDs, played music with me, booked me for a show, taken the time to listen to my music, I just wanted to say thank you.