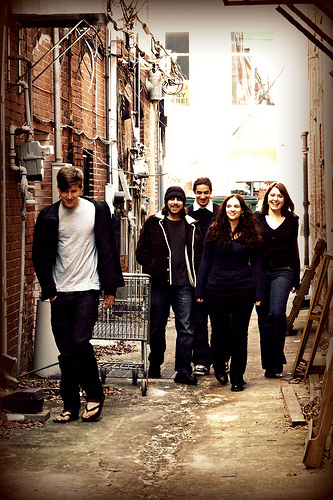 Photo by
Alisha Gaspard
I'm no longer singing with Long Absent Friends. It's really a shame that right after Alisha takes all of these badass photos, the band basically falls apart. (Or at least my part in the band.) In all of the bands that I've been in, I've never been in a band with someone that I've dated, until Long Absent Friends. And now that the relationship has ended, I just think it would be way too hard for me to continue with the band. I don't want to go the Fleetwood Mac or No Doubt route. It would be different if we were about to get signed or go on tour or something. I might troop it out in that case. But as it is, I have enough on my plate.
So, I'm basically going through two break ups at once. It's one of the hardest things that I've experienced in my life. Last time I went through a break up this bad, I had Novo Luna (previous band) and my apprenticeship with Horizon. I wrote
The Spins,
one of my favorite plays that I've written, and I sung my heart out with the guys in Novo Luna. It's a little harder now. But I still have my solo music. I still have playwriting. I am starting up the MFA program this summer, and I'm excited to beginning working on new plays.
I don't know if the guys are going to continue the band or not. If so, they'll probably change names and go in a different direction. I wish them the absolute best of luck. Truly, these are some of the most talented musicians I have ever played with, and I really think they could go far. Also, I have included all of the photos from the photoshoot with Alisha on my
photos/videos
page for those of you who want to see.
I'll never forget the emotional roller coaster that was Long Absent Friends, though. I've learned a lot by being in the band. I've grown as an artist. Every experience offers growth and development and has something for you to gain. I'm going to miss the songs, though. Music seems to be the most fleeting art. Especially if you don't record your songs. We wrote all of these songs, some of them were truly the most beautiful songs I've ever sang or been a part of in any band, and now they're just gone. I feel like the whole theme of the band was always very fleeting, though. The name Long Absent Friends. Referring to the friendships that come and go. Nostalgic looks back at the past. Even in one of our songs, "Gone," I sang, "What's gone may haunt us, but not define us, whatever leaves must return." The idea was that even though there are a lot of people that you have lost, fleeting moments that have come and gone, the people that you love and the moments that you share never really leave. They become a part of you, deep in your blood. And I believe there's something bigger that connects all of us. So we're never really alone.
It's hard, though, to see all of that in the middle of so much loss. I'm trying to think of this more as change than loss. A new beginning. A new opportunity for growth and new experiences. I'm trying my best to think positively, to appreciate what's happened, and not to be sad about it all. Sometimes it's hard. Sometimes it's
really
hard. Sometimes it's nearly impossible. But even all of this despair is worth something. It's giving me something. An experience, a feeling, growth.
I'll leave you with a video montage of Long Absent Friends from a Haiti benifit show that we played in January, filmed/edited by
Change Before Going Productions
: