Hey everyone!
First of all, I got another acoustic cover up on YouTube (finally). This is me doing a version of Anna Domino's "Summer" as requested by one of my Kickstarter donors. I'm hoping to start getting these covers on YouTube on a weekly (or at least every other week) basis! So if you have any requests, leave me a comment!
Secondly, I'm sure you've all heard about the new
Pocket the Moon
release. In case you haven't checked the blog in a long time, Pocket the Moon is the indie/folk duo that Geoff Goodwin and I are in. We've been playing around town in places like Drunken Unicorn, The Earl, Wonderroot, Smith's Olde Bar, and Highland Inn Ballroom.
We are releasing our debut self-titled ten-track album on
June 24th.
We will be playing a
CD release show
at The Drunken Unicorn on
Friday, June 24th
along with
Molly Parden 
and
Richard Parsons.
It's only 5 bucks, and I'm making cookies. That's right FREE COOKIES and live music! I hope you can join us!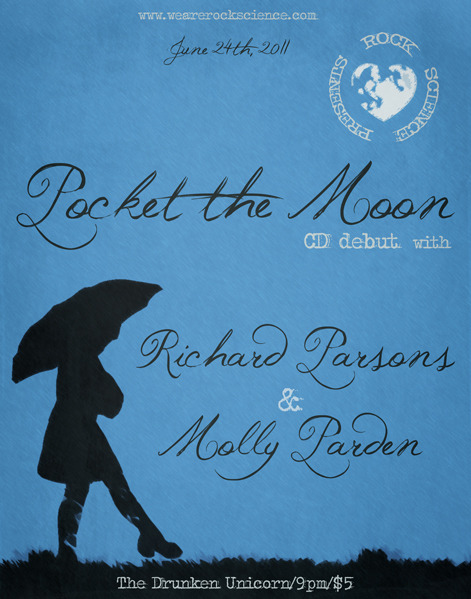 If you don't live in the Atlanta area but still want to be a part of the experience, Drunken Unicorn is now doing live streaming of their shows on the internet! So the show will be streamed live at
www.livestream.com/drunkenunicorn
. If you can't watch it live, it will still be up there for quite a while afterwards so definitely be sure to check it out!
You can also pre-order a copy of the album on the
Pocket the Moon website
or in my
store
if you aren't able to make it out to the CD release show but still want an album.
What people are saying about the album so far:
"Pocket the Moon is using this record as a tool to prove themselves as a band, not a duo, and to exemplify some of the rules (or lack thereof, actually) of songwriting as a band of multi-instrumentalists. Crawford's easy-listening voice spills tales that are tonally matter-of-fact, and that helps drive Pocket the Moon away from folk and towards something, musically, more transgressional. Atlanta doesn't need another distraught artist becoming one with his or her Taylor to deliver us C-to-D-to-Am flops about lost love and inner redemption. I think Crawford and Goodwin are telling us, with this record, that they agree.
" - J.Criss of The Silver Tongue -
Click here to read the full review
Also, The Essential Theatre will be doing a staged reading of a play that I wrote called The Spins as it was a finalist in their playwriting competition! The staged reading will take place
Wednesday, July 27th
at
Actor's Express
and you're all invited. :-) For more information on this reading series,
click here.
And that's what's going on with me. I hope you all are doing well!!