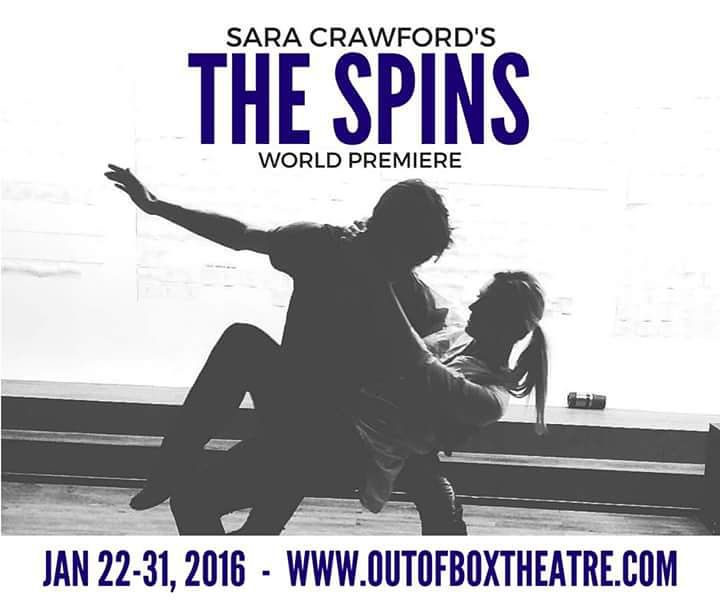 As all of you have probably heard by now, David Bowie passed earlier this week. His death has really affected me in a way that no other celebrity death has. (I don't really see it as just a "celebrity" death, even.) David Bowie is one of the artists whose music has shaped who I am, whose music was the soundtrack to some significant chapters of my life. @ElusiveJ posted the perfect Tweet about this recently: "Thinking about how we mourn artists we've never met. We don't cry because we knew them, we cry because they helped us know ourselves." 
I attended rehearsal for my play, THE SPINS, shortly after finding out about David Bowie. The timing seemed significant. In my play, a young musician named Lynn deals with the death of her brother as well as the more recent loss of a romantic relationship. In a drunken haze, a dead musician she idolizes spins her through dreams and memories (as represented by Dream Lynn) helping her to see how music can allow us to transcend loss, grief, sadness... even death. One of the major themes of my play is the way we all live on through our art. This is something I've been thinking about a lot lately: how David Bowie will live on through his music, how Alan Rickman will live on through his films, or even people you wouldn't think of as being artists will live on through the things they have created. Everyone creates something that will allow them to live on in other people's hearts and imaginations. I found myself thinking a lot about David Bowie and how much his music meant to me as I watched the actors rehearse. 
I wrote the play in 2009 under the mentorship of Addae Moon and the Horizon Theatre Apprentice Company. (Shout out to my fellow playwrights, Tommy Jamerson and Josh Julian!) At times, revisiting the script has felt like looking at something someone else wrote. I suppose I was a different person in 2009 so maybe that's not an inaccurate way to look at it. But unlike other things I've written that I've looked back on years later, THE SPINS still seems to have a great deal that speaks to the truth of who I am, at all ages. Although the majority of the play is not autobiographical, the emotions of the characters definitely are, and it still feels like a very personal play. 
Ever since I graduated from the University of New Orleans with my MFA in Playwriting in late 2012, I have been writing young adult fiction. (I can never just stick to one thing, you know. I'm always jumping in between plays, films, performing, music, novels, poetry, even sometimes painting--though not very well.) But attending rehearsals for THE SPINS has reminded me of a certain kind of magic that is found only in theatre. It's been such a treat to watch how Julian Verner has directed this incredibly talented cast, how they have all added their own unique interpretations of these characters, and how the rest of the team has worked so diligently to create something really special. I am so blessed that Carolyn Choe and the Out of Box team chose to add my play to their season. I adore everything I've seen there. And although I am feeling nervous and vulnerable in a way that is exclusive to playwrights, I think, I can't wait to see how everything comes together next week.  
THE SPINS opens on Friday, January 22 and runs through Sunday, January 31, and I hope all of you who are in the Atlanta area will come see it. It means a great deal to me to be able to share these messages with others. For tickets, please visit the Out of Box website.