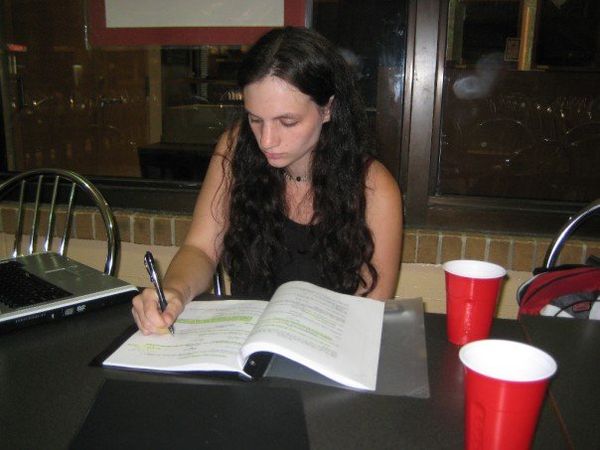 We're just going to ignore the fact that this picture is, like, 8 years old. I've been writing too much lately to stop and take pictures of myself. But I thought it was appropriate for this post!
 
Hello, blogosphere! It's been a while! What have I been up to?
Writing, writing, and more writing. Oh, and then some freelance editing for other writers, reading books, and making some
videos about writing
. And then more writing. It's an exciting life!
I had some great news recently when
Out of Box Theatre
in Marietta, Georgia announced they will be performing my play, THE SPINS, in January 2016! I am very, very excited about this. I wrote THE SPINS in 2009 during my apprenticeship at Horizon Theatre. It was then a finalist in The Essential Theatre Playwriting Contest in 2011, and it had a staged reading as part of the Essential Theatre Festival that summer. So it's been a long time coming. I have loved every play I've seen at Out of Box, and I especially love how they produce so many plays by Georgia playwrights so I can't wait to see what they do with it. 
Update on my young adult novel series: I have changed the name of the first book from THE MUSES to WE OWN THE SKY, Book One in THE MUSE CHRONICLES. My agent is still working hard to find the best publisher for the book, and it has gone through a lot of edits and revisions since I first started writing it in the fall of 2012. I am confident that my agent, Marie, will find the perfect home for the trilogy in the right and perfect time. I wrote 50,000 words of the first draft of the second book in November for
NaNoWriMo
, and I am working hard to shape that into a presentable complete draft that I can show to my critique partners and beta readers. (I'm actually looking for a new critique partner or two. E-mail me at sara@saracrawford.net if you are interested!) The second book is called HURRY UP, WE'RE DREAMING. (You music freaks will probably recognize the allusions to M83 here. This is on purpose!) 
Other than that, I've been blogging for websites like
HelloGiggles
,
PickTheBrain
, and
LifeHack
as well as maintaining my own
writing blog
. Speaking of the writing blog, I've decided to only use that blog for posts about writing. I'll be saving all of the posts about my own writing journey and my artistic career for this blog (which means I'll actually be using this blog regularly again!). 
For those of you who are writers, you may be interested in the new mailing list I have started, The Daily Writer. Subscribers of this mailing list receive daily writing inspiration in the form of tips, prompts, thoughts, inspirational quotes, interesting reads, and more!
Subscribe and join in the fun
. Subscribers also get a free copy of my e-book, THE 30-DAY WRITING CHALLENGE: BEGIN OR ENHANCE YOUR DAILY WRITING HABIT. Make sure you subscribe to my
YouTube channel
 as well. I'm actually making videos again!
That's all for now. I'll be updating this thing more often from now on! Stay tuned!