Photo by Patrick Duffy
Well, we've been in the middle of a snowpocalypse here in Atlanta all week. It seems like the entire metro area has basically been shut down since Monday.
Fortunately, though, Geoff and I have still been able to make some progress with
Pocket the Moon
, and I have some updates for you on the project!
You can now check out the
Pocket the Moon website
to hear a preview track and see what we've been up to!
Click here
to listen to "Bridge." This is a song Geoff and I have been doing together since the
Novo Luna
days, but I'm really excited about the Pocket the Moon version.
You can also find Pocket the Moon on
Facebook
,
Reverb Nation
, and
Twitter
. So add us on there! We may be giving away promotional tickets to shows on Facebook and Twitter, so you could get FREE stuff!
Pocket the Moon website -
http://pocketthemoon.com
Pocket the Moon on Facebook -
http://www.facebook.com/pages/Pocket-the-Moon/130546320341615
Pocket the Moon on Twitter -
http://twitter.com/#!/pocketthemoon
Pocket the Moon on Reverb Nation -
https://www.reverbnation.com/pocketthemoon
We managed to squeeze in a photo shoot with
Belenen
before the ice storm hit on Sunday night, so those photos will be coming soon! We're also planning a photo shoot with
Alisha Gaspard
(I'm ending the "every time a band I'm in gets awesome photos from Alisha, we break up right afterwards" curse). Haha. We're excited to be working with such talented photographers, and we're excited to see what comes from it!
Also, we have our first official show on
Saturday, February 5th
at
Drunken Unicorn.
We will be playing with
Ether Overdrive
and
Audiophile
with Brennan Johnson, featuring members from Dubconscious, Collective Efforts and Entropy. This is sure to be an awesome night of music and for just
five bucks
to see three bands, you won't want to miss it! So bring your friends!
In the spring of 2011, you can expect a full album release from
Pocket the Moon
, and you can also expect to see us play shows with the incredibly talented
Nerdkween
(
who is actually going to play South by Southwest
!) and the also incredibly talented
Sydney Eloise
(who some of you may have seen at The Star Bar when we played there last month).
Speaking of the Star Bar, you can check out a few of our songs from that set in this video, thanks to
Dominant Sound
.
So make sure you "like" us on
Facebook
, follow us on
Twitter
, and come see us play at the Drunken Unicorn! And thank you so much for your support!!
Shortwave Society
If you're looking for some new things to check out this weekend once the ice thaws,
1880's Dance Party
will be playing with
Pink Pompeii
and
Shortwave Society
at Drunken Unicorn on
Friday, January 14th
. It's only 5 bucks, and it will definitely be an amazing night of music you don't want to miss. I will definitely be there so throw on your coat, scarf, and gloves, and come hang out with me and hear some great live music. For cheaper than the price of a movie!
The Head

Also,
The Head
will be having an EP release show at Vinyl with
Young Orchids
. I'm definitely going to that show as well. I got the opportunity to see The Head at Star Bar last month, and these guys have a really solid sound. Check it out!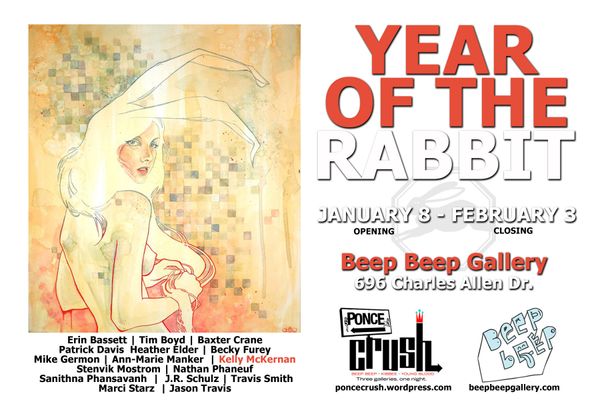 If you're looking for something a little more visual and you missed the Ponce Crush art crawl last weekend,
Young Blood Gallery
,
Kibbee Gallery
, and
Beep Beep Gallery
are still running their exhibits
- Anima/Animus
at Young Blood,
Picturing the Beast: Animal Imagery in Contemporary Prints
at Kibbee, and
Year of the Rabbit
at Beep Beep - featuring some of the cities most talented local artists.
Anima/Animus
and
Picturing the Beast
run through January 29th, and
Year of the Rabbit
runs through February 3rd. Check it out!
There are so many artists doing amazing things in Atlanta, so get out there and support them. Most of the time it's pretty cheap, and it's great to be a part of the community and see what kind of work local artists are creating (in all mediums!). Plus, you can get cheap beer at most music venues, theatres, art galleries, etc. And who doesn't love that?
So I'll end this blog post with a new segment called
five things I'm diggin'
:
1.
Jake Shimabukuro
's version of "Hallelujah" on
Peace Love Ukulele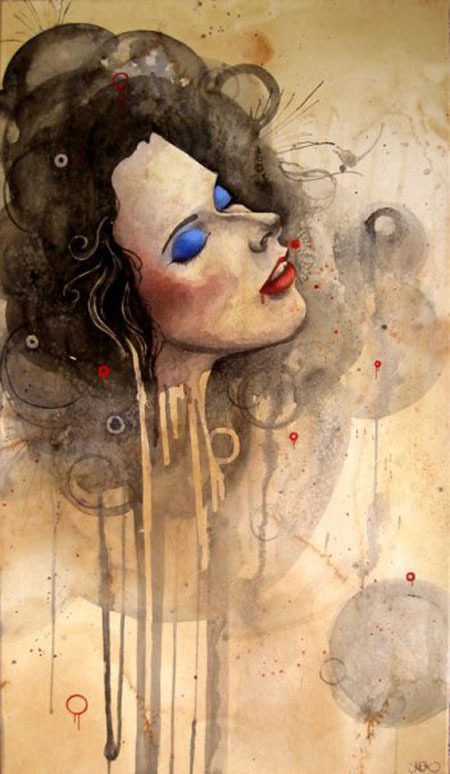 2. This piece by
Kelly McKernan
, local artist, entitled
Hit Me

3. My friend's blog
domesticationfail.com
- I'm pretty much the opposite of domestic, but it's really fun to read about her domestic adventures!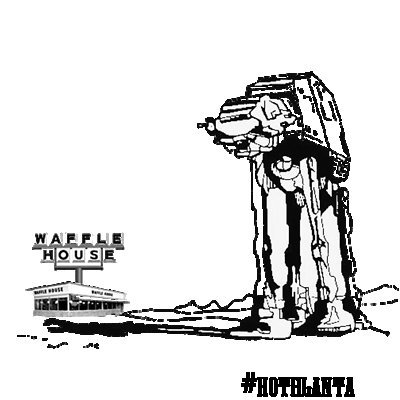 4. These
hothlanta t-shirts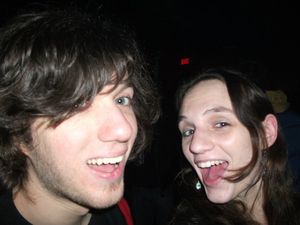 5. My
little brother
's writing for
DeadJournalist.com
now! (Hey, Kev, think you can hook Pocket of the Moon up with a solid review? Kidding, kidding.)