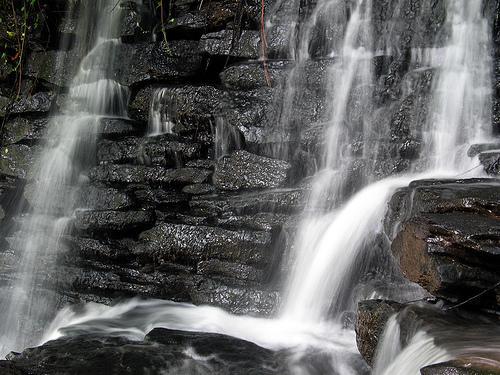 Waterfall at Roswell Mill
by
Gareth Botha
Well February is here! Time for Valentine's Day, wishing it was warmer outside, getting really sick of the whole winter thing, birthdays for Aquarians, all of that crap!
If you've got the "I'm sick of winter" blues, here is a bunch of really cool artistic stuff for you to do! Lots of choices, so don't ever say I didn't tell you about anything cool to do!



Music
-
TONIGHT! February 2nd - My band, Long Absent Friends, will be playing at Lenny's Bar along with Goodland, Transloader, and Aftermath.
(Goodland features Geoff Goodwin and Chase Adkinson, who I played with in Novo Luna.) Goodland will be on at 9:00 PM, Long Absent Friends at 10:00 PM. The cover is 6 dollars - 21+ - Lenny's Bar - 486 Decatur Street Southeast, Atlanta, GA 30312
-
February 4th
-
Nobody's Darlings, Ordain, The Mitch Hansen Band, and The Issues
- 9:00 pm - 6 bucks - 21+
Lenny's Bar
- 486 Decatur Street Southeast, Atlanta, GA 30312
-
February 4th - Lindsay Appel, Lexi Street & Soul Shakers
- 
The EARL
! - 9:00 pm - 7 bucks - 21+
-
February 4th - Haji Basim
-
Library Coffee Company
- 2523 Caldwell Rd NE - Atlanta, GA
-
February 19th - Trances Arc, The Modern Society, The Biters
-
The Earl
- Atlanta, GA - 9:00 pm - 7 bucks
-
February 20th - Elliott Rubin
- 8:00 PM at
The Uptown Loft
, Johns Creek, Georgia - Cost: $5
-
February 20th - Laura Veirs & The Hall Of Flames, Cataldo, The Old Believers
-
Star Bar
- 9:00 pm - 12 dollars
-
February 26th - Kim Boekbinder of Vermillion Lies, Adron, Rita of Helen Keller's Ukulele
-
The Drunken Unicorn
- $5 for 21+, $7 for 18+
-
February 27th - Blair Crimmins & The Hookers, A Fight to the Death
-
Star Bar
- 9:00 pm - 8 dollars
Theatre/Dance
-
February 13th - The Voodoo Revue: A Mardi Gras Masquerade!
Come and enjoy a night of mayhem and excitement as The Collective transports you back to a time of voodoo magic and old New Orleans. This is event is a fundraiser for
The Collective
and our newest work Rising Sons performing at 7 Stages February 18th-21st. -  We will have three amazing bands performing, including Skylights and H.M.S. Disco. Also, enjoy comedy, magic, and other acts from Collective performers!  -  The cover is $10 (cash only, please!) and the event is BYOB (must be 21 to drink!) Doors open at 8pm and the show starts at 9pm.  -  Don't forget your mask and your dancing shoes! It is sure to be a fantastic time!
-
January 22 - February 7 - Relapse Theatre presents Clive Barker's "A History of the Devil,"
running January 22 through February 7, Fridays, Saturdays, and Sundays. Friday and Saturday performances begin at 7:30, Sunday performances at 5:00. Tickets are $10 at the door, First Come, First Serve!
-
February 5th and 6th, 2010
- doors at 7:00 p.m. - Spectrum: Mythos at
The Georgia Ballet Studios
- Join The Georgia Ballet for an incredible evening of extraordinary performances that showcase the company in contemporary and inventive new choreography! Spectrum: Mythos, An Evening of New Works will include a one hour dance showcase performance, live music, food and drink, and a silent auction with fun and exciting items for everyone.
- February 12 - March 14 - Shooting Star by Steven Dietz at Horizon Theatre
- Sparks fly and snowflakes fall as two old flames meet by chance in a blizzard bound airport. Reed, a suit-and-tie with Blackberry, and Elana, a bohemian with rain stick, were once idealistic college lovers. Here they reconnect and share stories deep into the night. Humor, heartache, secrets, and snow. When morning comes and all flights are cleared for departure – what's the final destination for these two? A delicious, bittersweet comedy with heart and bite.
-
Jan 29 - Feb 21 -
Alliance Theatre
-
Tennis in Nablus, A World Premiere by Ismail Khalidi
-  Palestine. 1939. Allegiances… and identities… are never what they seem. Under British colonial rule, two nations buckle under conflicting claims to their rightful land. And as the world explodes around them, one divided family seeks to achieve the delicate balance between peace and freedom.
Visual arts
-
February 4
-
Eyedrum
-
Ayed Hallim: Instrumentalities
- Opening reception for a Small Gallery show of new assemblage works by Atlanta bricoleur Ayed Hallim. Hallim, the pseudonymous alter ego of a former local arts journalist, creates works in found metal, spent packaging, and other repurposed materials. After the reception, Hallim performs during Open Improv on some of the "perjunction" instruments included in the exhibition. Exhibition on view through February 21.
- February 5 - "Columns, Stacks, Heaps, and Piles" by Justin Richel
-
Young Blood Gallery
- Starting Friday, February 5th, YBG will be displaying a series of small-scale works on paper by Justin Richel. This series will focus on small and affordable works from the "Sweets" series.
- February  6
-
Art Papers 11th Annual Art Auction
- 7:00 to 10:00 pm - Mason Murer Fine Art
- February 13 - March 7 -
Beep Beep Gallery
- Material
- "Material" is a group sculpture featuring five artists working in a variety of media. Artists include: Lucha Rodriguez, Romy Maloon, Crystal Wagner, Chase Folsom, Jessica Orlowski
There you go! Tons of awesome artists to go out and support! :-)
As always, leave a comment if I've left something out.
Stay tuned for another podcast full of music sharing and awesomeness. (Like a mixy but with me talking in between songs so it's legal!)