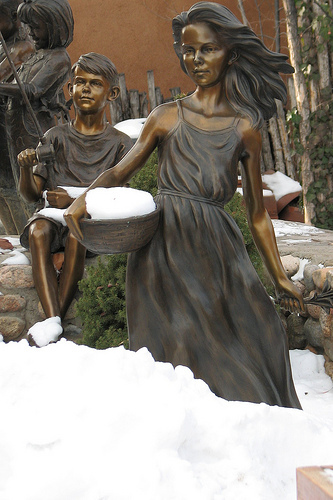 Photo by Andrew Zucker
Hey everyone! First of all, Thanks for listening to my podcast! I got a lot of positive feedback on it so I'm definitely going to try to do more of those in the upcoming year. I'm thinking more podcasts in the whole "mix CD" format. They'll probably just be essentially me sharing awesome music with everyone.
Secondly, I hope everyone had a wonderful holiday season, and I hope 2010 is treating you well so far. I rang in the New Year having an awesome time jamming out to the
Sealions
at the Highland Inn, and I am really looking forward to everything this year has in store.
10 reasons I am excited about 2010:
1. I'll be playing a lot of open mic nights, solo shows, and shows with my band, Long Absent Friends. I already have two solo shows lined up and two band shows.
2. THE 7TH HARRY POTTER MOVIE IS COMING OUT. (That's right.)
3. I'll be writing a play for the Horizon Theatre Apprentice Company to perform this spring.
4. New albums from Arcade Fire, Beach House, Massive Attack, the list goes on!
5. Due to my little brother being awesome, I will be going to see MUSE and the SILVERSUN PICKUPS in February!
6. My poetry book,
Coiled and Swallowed
, will be published from VergoGray Press sometime this summer or fall.
7. The final season of
Lost
. Maybe all of our questions will finally be answered.
8. I have gotten a book called
The Daily Writer
with writing exercises for every day. I've been doing them every day so far, and I really love them. It gives me a chance to stretch my writing muscles for a little bit every day.
9. I'll be starting graduate school with University of New Orleans Low Residency program (MFA in Playwriting) and traveling to Mexico for my first semester this summer!
10. Did I mention THE 7TH HARRY POTTER MOVIE?
There are a lot of things coming up in January in the Atlanta area that are worth checking out. So, let's get started.
My EventsIn the Atlanta area...

MUSIC:

Here are some shows that you should check out.
OPEN MIC NIGHTS:

I've been compiling a list of open mic nights that I'm planning on going out to. Open mic nights are great for meeting other musicians, hearing some new voices, or just having a good time. A lot of people have asked me to share my liste of open mic nights that I'm going to check out, so here's what I have so far.
Maccrackens – Mondays - 9:00 pm - Marietta- I've been to this one before. Maccrackens is a really fun bar. Also, on the first Tuesday of every month (at 7:30 pm) The Play Pen has another open mic night there for not just musicians but also writers as well! (I'll be checking out that one tonight!)
Eddie's Attic - Mondays - 7:30 -  Decatur - National and local acts perform 2 songs each, with 3 finalists returning for a third song at the end of the evening for a chance to win a cash prize and a spot in the bi-annual, nationally acclaimed Open Mic Shootout. - Musicians - You have to sign up for this months in advance, but it's always a fun thing to do on Monday nights. I'll be playing in May of this year!
Ragamuffin - Thursdays - 8:00 - Roswell - I've never been to this open mic night before, but I've heard from other musicians that it's really cool. Actually, Michael (guitarist), Kyle (violinist), and I from Long Absent Friends will be going this Thursday, January 7, to play a short acoustic set. Come check it out!
Red Light Cafe - Wednesdays - 8:00 - Atlanta - I haven't been to the open mic night at this venue, but I've played a lot of shows there, and it's one of my favorite venues.
Rev Coffee – Wednesdays – 8:00 pm – Smyrna - This one is also new to me, but I've heard good things.
Let me know if you have any additional open mic nights for me to add to the list!
THEATRE:
Here are some cool shows that I'm hoping to check out.
The Cantebury Tales - The New American Shakespeare Tavern - January 1 - January 31 - Join us for a medieval romp through boisterous and bawdy olde England. Drawing on the Celtic British influences of Geoffrey Chaucer's writing, this hilarious adaptation reintroduces the tales in forms ranging from classical to spaghetti Western! We've got two new tales to tickle your fancy!
Good Boys and True - Actor's Express - Jan 14 - Feb 13 - It's the 1980s and the boys at St. Joe's Prep School are clean cut, well bred, Ivy League-bound – and having a lot of sex. When a scandal involving one little videotape threatens to grow beyond closed-door whispers to engulf the entire school, the ugly underpinnings of an elite machine threaten to give way. As one mother struggles to glean fact from fiction, she finds herself face to face with truths about her perfect son and their privileged existence. From one of the writers of the HBO hit "Big Love."
Tranced - Aurora Theatre - Jan 14 - Feb 7 -  A Regional Premiere by Bob Clyman Directed by Susan Reid This suspenseful drama is a twisting tale of recovered memories and political intrigue.
On-Demand Reading of A THOUSAND CIRCLETS by Theroun D'arcy Patterson - Working Title Playwrights - Tuesday, Jan. 12 - Academy Theatre, 119 Center St., Avondale Estates, Ga. FREE to WTP members. $5 at-door suggested donation all others.
OTHER EVENTS:
January 23 - High Museum, Harper Dance Continuum Theatre presents 2 artists, 1 dancer and DJ Tabone. 8 pm in the atrium. - Artists Vickie Martin and Lance Carlson will paint with "HIGH allowed" material while Tracey Perkinson moves between two canvases of spandex - choreographed by Heather Harper
That's all I have so far. Feel free to add comments to the blog if I left anything out!